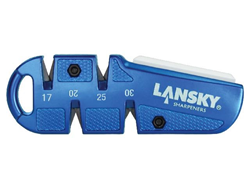 Buffalo, New York (PRWEB) January 25, 2016
Lansky Sharpeners, a world leader in innovative sharpening technology, has added another landmark to their ever expanding product line with the release of the new QuadSharp™ Knife Sharpener.
Maintain knives in the field to the exact angle set with a Lansky Kit!
Available beginning March 16, the QuadSharp™ knife sharpener features the same four angles as the legendary Lansky Controlled-Angle System for the perfect portable sharpening accessory. The built-in ceramic polishing benchstone also allows the QuadSharp™ to be used as a fully-functional, stand-alone sharpening solution. It's the smallest, most versatile multi-angle sharpener available! Any worries about a dull knife blade — whether it's in the kitchen, workshop, or outdoors — will be a thing of the past with the QuadSharp™ sharpening kit. And as with all of Lansky Sharpeners' products, the QuadSharp™ is constructed of only the most durable materials available to last for years to come.
Features of the QuadSharp™ include:

Four Sharpening Angles: 17 degrees, 20 degrees, 25 degrees, and 30 degrees
Sharpens in 3-4 strokes
Ceramic benchstone for fine polishing
Rugged metal construction
100% compatible with all Lansky Kits and accessories
At an MSRP of $18.99, the QuadSharp™ is also an incredible value!
Lansky Sharpeners constantly strives to be on the leading edge of knife-sharpening technology. To learn more about the QuadSharp™, or any of Lansky Sharpeners' quality products, please visit http://lansky.com or call (716) 877-7511 or at 1-800-825-2675.
About the company:
Lansky Sharpeners is the most recognized name in knife-sharpening systems worldwide. In addition to their legendary Controlled Angle Sharpening System, they continue to develop new sharpening technologies and innovations for hunting, outdoor sports, kitchen use, as well as the workshop. Their product line includes everything from a knife sharpener to a pocket knife sharpener. Visit their online store to view their ever-expanding line of great sharpening products. For more information, visit their website at http://www.lansky.com.