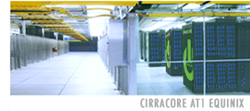 Cirracore Joins VMware® vCloud Air™ Network as an Enterprise Level Service Provider
Atlanta, GA (PRWEB) January 26, 2016
Cirracore Enterprise Cloud, today announced that it has joined the VMware vCloud Air Network as an Enterprise-level Service Provider.
The VMware® vCloud Air™ Network provides organizations with VMware-based enterprise-class security and infrastructure compatibility, with the freedom to readily move workloads among private, public and hybrid clouds.
Using proven VMware technology customers already use in their existing data centers, VMware vCloud Air Network Service Providers can accelerate their business growth by offering customers trusted and secure public and hybrid cloud services.
Cirracore provides enterprises with VMware-based cloud solutions that include Infrastructure as a Service (IaaS), Disaster Recovery as a Service (DRaaS) to geographically diverse locations, Managed Cloud Services, Cloud Backup and now vCloud Air Network services.
"Cirracore customers can now move workloads from their VMware vSphere-based virtual or private cloud environments to Cirracore's vCloud Air Network services to increase IT agility in their organization," said Fred Tanzella, CEO of Cirracore.
"We welcome Cirracore's progression in the VMware vCloud Air Network program to Enterprise Service Provider," said Jim Aluotto, director, Service Providers, Americas, VMware. "Since 2008, VMware has been working with the service provider community to provide customers with a simple and flexible path to the cloud, and we are pleased to have Cirracore progress in the vCloud Air Network program offering greater value to organizations with their VMware-based cloud services."
The VMware vCloud Air Network supports customers with increased service flexibility, greater options for global cloud services and the choice of local VMware vCloud Air Network Service Provider partners in more than 100 countries globally.
For more information on the VMware vCloud Air Network, please visit: http://vcloudairnetwork.com
About Cirracore
Cirracore is a provider of VMware-based Enterprise Cloud Infrastructure as a Service (IaaS), Disaster Recovery as a Service (DRaaS), Managed Cloud Services, and Cloud Backup serving a global customer base. Cirracore provides Virtual Private Data Centers with dedicated resource pools for customers that need tighter security and control in their cloud. Cirracore is carrier-neutral with access to 180+ network providers to provide "on-net" Enterprise Cloud resources that do not traverse the Internet.
Additionally, Cirracore provides white-label Enterprise Cloud services to major telecom carriers and solution providers that offer IaaS to their customer base.
Visit Cirracore at http://cirracore.com
# # #
VMware, vCloud Air and vCloud are registered trademarks or trademarks of VMware, Inc. in the United States and other jurisdictions. The use of the word "partner" or "partnership" does not imply a legal partnership relationship between VMware and any other company.