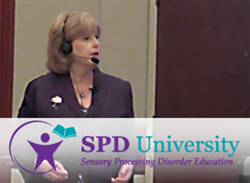 SPD Foundation's ASHA approved courses include all S.O.S. Approach to Feeding in-person workshops.
Denver, CO (PRWEB) January 26, 2016
The Sensory Processing Disorder Foundation announces that the Continuing Education Board (CEB) of the American Speech-Language-Hearing Association (ASHA) has approved the Foundation as an ASHA Approved Continuing Education (CE) Provider. ASHA Approved CE Providers are able to offer ASHA Continuing Education Units (CEUs) for the courses they offer to audiologists and speech-language pathologists. The recognition period extends for five years and includes all courses offered during that time that meet the ASHA CEU standards. SPD Foundation is launching it's first ASHA approved courses of 2016 with their March feeding workshop.
SPD Foundation's ASHA approved courses include all S.O.S. Approach to Feeding in-person workshops. The S.O.S. Approach to feeding is a transdisciplinary program for assessing and treating children with feeding difficulties including weight and growth problems of all ages, with a specific focus on children 12 months to 5 years. The basic 3-day in person course was expanded to 4 days in 2015 in order to provide more in-depth information to participants. After professionals attend the basic workshop they can advance their skills online with the ASHA approved S.O.S Approach to Feeding Advanced Courses through the SPD University (SPD Foundation's online learning portal). These online courses delineate special concepts and treatment variations for specific feeding problems and can be purchased and viewed when convenient; day or night.
Basic S.O.S. Approach to Feeding workshop dates for 2016 are:
March 9-12 Fort Myers, Florida
July 28-31 Denver, Colorado
December 1-4 Houston, Texas
"We are pleased to welcome the SPD Foundation as our newest ASHA Approved CE Provider organization," stated Dr. Jaynee A. Handelsman, president of ASHA and director of pediatric audiology in the CS Mott Children's Hospital and a clinical assistant professor in the Department of Otolaryngology–Head and Neck Surgery in the University of Michigan Health System. Handelsman added, "The SPD Foundation joins 532 organizations across the county and around the world that have had their organizational process and courses reviewed by our experts in continuing education to ensure the highest possible standards are met."
In order to achieve ASHA Approved CE Provider status, the SPD Foundation completed a rigorous application process and successfully demonstrated adherence to the ASHA Continuing Education Board standards that focus on the design, development, administration, and evaluation of its continuing education courses offered for audiologists and speech-language pathologists. The approval process involved the review of all courses offered by the SPD Foundation in the past five year period and their on-going adherence to ASHA CEB standards. As a result of approval, the SPD Foundation agreed to be in compliance with ASHA CEB standards and can promote their organization and courses using the ASHA CE logo on promotional course material. In addition, the SPD Foundation is listed on the ASHA CEB's Approved CE Provider list and their courses that meet CEB standards will appear in the ASHA CE Course Search on the ASHA website at http://www.asha.org/CE .
About the Sensory Processing Disorder Foundation
The Sensory Processing Disorder (SPD) Foundation, a Colorado 501(c)(3), is the world leader in research, education, and awareness for Sensory Processing Disorder, a neurological condition that disrupts the daily lives of more than 4 million Americans. The SPD Foundation offers educational programs, conducts SPD research, and provides resources for parents worldwide. Dr. Lucy Jane Miller, widely recognized as a leader in SPD research worldwide, founded the SPD Foundation in 1979. The SPD Foundation provides hope and help to individuals and families living with SPD. For more information, visit SPDFoundation.net or call 303-794-1182.
About the American Speech-Language-Hearing Association (ASHA)
ASHA is the national professional, scientific, and credentialing association for more than 182,000 audiologists, speech-language pathologists, and speech, language, and hearing scientists. Audiologists specialize in preventing and assessing hearing and balance disorders as well as providing audiologic treatment including hearing aids. Speech-language pathologists identify, assess, and treat speech and language problems including swallowing disorders. For more information, please visit http://www.asha.org or call 800-498-2071.
About the American Speech-Language-Hearing Association (ASHA) Continuing Education Board (CEB)
The ASHA CEB supports and facilitates professional development by assisting individuals in the management of lifelong learning; encouraging the availability of quality, relevant CE opportunities through its network of ASHA Approved Continuing Education Providers; and recognizing individual accomplishments in CE with the ASHA Award for Continuing Education (ACE).