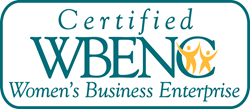 "It is a privilege to continue to help promote diversity for corporations and agencies looking to do so, and to continue to provide exceptional service to our customers."
PLANTATION, Fla. (PRWEB) January 26, 2016
January 26, 2016 — Medical Scrubs Mall, a leading online retailer of scrubs and medical uniforms, is proud to celebrate its re-certification as a Women's Business Enterprise by the Women's Business Development Council of Florida, a WBENC Regional Partner Organization.
The Women's Business Enterprise National Council (WBENC) is a 501(c)(3) non-profit that provides its world-class standard of certification to women-owned businesses throughout the country. The organization's mission is to fuel economic growth globally through access to opportunities by identifying, certifying, and facilitating development of women-owned businesses. The WBENC certification standard is the most relied upon certification of women-owned businesses.
Medical Scrubs Mall has been a woman-owned business since its acquisition by the company's CEO, Susan Masimore, in 2007 and first applied for and received its WBENC certification in 2014. "It's very important for our company to be recognized as a Women's Business Enterprise at such a respected level," said Masimore. "It is a privilege to continue to help promote diversity for corporations and agencies looking to do so, and to provide exceptional service to our customers."
The WBENC certification validates that the business is 51 percent owned, controlled, operated, and managed by a woman or women. To achieve WBENC Certification, Medical Scrubs Mall completed a formal documentation and site visit process.
By including women-owned businesses among their vendors, corporations and government agencies can demonstrate their commitment to fostering diversity and the continued development of their supplier or vendor diversity programs.
About Medical Scrubs Mall
Medical Scrubs Mall is a leading online retailer of scrubs and medical uniforms. The company operates out of Plantation, Florida and provides customers with a selection of medical uniforms from reputable brands such as Cherokee, Grey's Anatomy by Barco, Dickies, Landau, WonderWink, and Med Couture. Medical Scrubs Mall prides itself on providing exceptional customer service and the largest selection of name brand scrubs online and is very proud to be certified as a women-owned business.
For more information and to view their garments, visit the Medical Scrubs Mall website at http://www.MedicalScrubsMall.com or call 888.556.1965.