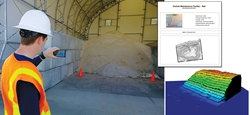 The capability is transforming the way DOTs manage the utilization and ordering of salt in response to ice events.
(PRWEB) February 02, 2016
StockpileReports.com, an online image-based stockpile inventory management system, announced today advanced support for stockpiled material stored in bins and bunkers. The capability empowers customers to accurately and consistently measure material stored in bunkers with iPhones and Drones. The capability is based on a recent Patent #9,196,084, awarded for technology powering StockpileReports.com for Determining Object Volume from Mobile Device Images.
Previously, bunkered materials such as salt, gravel, ash, mulches, and sand were typically measured by utilizing a walking wheel, counting blocks, or from estimations based on truckload or barge sizes. Determining the volume of material stored in bunkers frequently, and accurately, is a source of frustration for construction and aggregates companies.
The inability to accurately count physical inventory monthly or quarterly, contributes to physical inventory write-offs and produces large financial swings. Having the ability to use a mobile device for indoor, or outdoor bunker inventory measurements gives subscribers an opportunity to achieve an accurate perpetual inventory eliminating write-offs and make more data-driven business decisions confidently.
"We're very proud to be able to offer bunker and bin measurement capabilities," said David Boardman, CEO of Stockpile Reports. "Our subscribers requested this from our team in 2015, and we've been piloting the capability with 23 companies, and managing materials in over 500 bunkers. In addition to accelerating and improving physical inventory counts, the capability is transforming the way DOTs manage the utilization and ordering of salt in response to ice events", said Boardman.
Subscribers to StockpileReports.com's service are accurately measuring stockpiled material, with report results that includes stockpile volume, tonnage and pile locations via an iPhone® device, by airplane or by drone data. StockpileReports.com is currently being used by over 120 companies, in 18 countries, to manage over $3 billion dollars in inventory. Marquee clients include the Texas Department of Transportation, CEMEX, Quikrete, and Lane Construction.
The recently patented StockpileReports.com platform leverages large-scale 3D reconstruction from the team at URC Ventures. The platform was developed by a team of world-leading computer vision scientists, collectively holding 32 prior patents. The same technology has been used to derive a 4 billion-pixel point cloud of the Himalayas from 130,000 images. More recently, over 12,000 landmarks were reconstructed in 3D from 100 million crowd-sourced images from Yahoo.
Stockpile Reports is be exhibiting at Booth N3247 in Las Vegas during the World of Concrete show, February 2-5, 2016.
David Boardman will be presenting "Transforming Big Data into Big Results" at AGG1/World of Asphalt in Nashville, March 22-24, 2016. Look for Stockpile Reports at Booth 2851.
For more information about the company, please visit http://www.StockpileReports.com