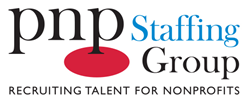 "Nonprofits need to create an effective organizational recruitment strategy that spreads a wide net and attracts hidden talent in the marketplace."
New York, NY (PRWEB) January 28, 2016
PNP Staffing Group has just released its 2015-2016 NonProfit Salaries & Staffing Report. The report offers impressive evidence of continuing growth, development, and confidence in the nonprofit sector.
The nonprofit sector has grown by 20% over the last 10 years, in contrast to a growth rate of about 2-3% in the for-profit sector. Financial and public support for nonprofit institutions is at an all-time high, with more investment in interesting, innovative, and new programs than ever before.
Hiring among nonprofits continues to grow, with more than 50% of the survey respondents reporting staff increases. Employee transfers from the for-profit sector also continue to increase as nonprofits become a favored place to work or renew a career.
Employer demand levels have remained consistently high as employment needs increase. Survey results reflect that the principle challenge and concern for nonprofits and associations, heading into 2016, is the overriding issue of Talent Management—that is, recruiting and retaining the best and most capable staff in an increasingly competitive marketplace.
As the talent marketplace continues to shrink, finding the right employees to hire becomes more difficult. PNP Staffing Group CEO, Gayle Brandel, believes that companies need to create a more effective organizational recruitment strategy that spreads a wide net and attracts hidden talent in the marketplace.
PNP Executive VP, Ira Madin, said, "Keeping salaries competitive is a high priority for the future. Without it, organizations will have a tough time attracting talent and holding on to the staff that is on board." Executive salaries rose by an average of 3-5% while mid-management and support positions showed average salary gains of 1-3%.
The report includes information on trends in the nonprofit sector that impact salaries and hiring including the rising dominance of Generation Y in the nonprofit workforce. More than 1,100 nonprofit organizations participated in the salary survey.
ABOUT
PNP Staffing Group, founded in 1996 as Professionals for NonProfits, provides a full suite of staffing services exclusively to the nonprofit, association and social good sector. Specializing in filling positions that are key to the growth of an organization, PNP offers every staffing solution a nonprofit may need—Temps, Temp-to-Hire, Interim Professionals, Direct Hire Search, Executive Search and Consulting Services.