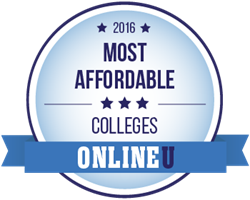 It is our hope that other colleges take notice and start to follow suit, lowering tuition costs all across the nation!
Kirkland, WA (PRWEB) February 03, 2016
SR Education Group, an online education publisher founded in 2004, just released a major update to their website OnlineU.org: The 2016 Most Affordable Online Colleges. OnlineU.org was launched in November of 2013 with a mission to hold educational institutions accountable for making degrees affordable and accessible, and it was one of the first websites to release rankings of colleges based purely on annual tuition rates. The 2016 Most Affordable Online Colleges continues that tradition with updated rankings on 24 different subject areas and a brand new overall list of the 25 most affordable non-profit colleges in the nation. In order to be considered for the overall list, the colleges have to offer at least 10 online degrees and at least one at the bachelor's level. South Texas College, Great Basin College and Darton State College were the top 3 most affordable non-profit schools in the nation.
OnlineU was created in 2013 to encourage institutions to lower the overall cost of earning a degree in order to make it easier for more Americans to attend college. All of the top 25 Most Affordable Online Colleges have a yearly tuition rate under $8,500, with South Texas College offering the most affordable tuition of only $3,450 per year. All tuition rates represent out-of-state rates, and all classes can be completed online, with two weeks or less of on-campus work required. Essentially any affordable degree that can be earned while keeping a full time job was considered for the 2016 rankings.
Overall, there are 204 different schools represented in the 25 ranked lists, with an average annual tuition of only $8,570. Many online students already know their career path and desired degree, which is why a ranking was made for each major online degree program. The 24 subject rankings vary from the Most Affordable Online Teaching Programs to the Most Affordable Online MBA Degrees. The overall ranking and the subsequent 24 subject rankings represent the most extensive selection of affordable online degrees.
"There has been a lot of talk about how expensive attending college has become, but no one is taking the time to recognize colleges that are making a concerted effort to keep tuition costs low," explains Sung Rhee, CEO of SR Education Group. "The colleges represented on our 2016 Most Affordable Online Colleges lists are revolutionizing the education industry by offering quality degrees at palatable prices. It is our hope that other colleges take notice and start to follow suit, lowering tuition costs all across the nation!"
Note to editors: Click here to consult the methodology for the 2016 Most Affordable Online College Rankings.
About SR Education Group
Headquartered in Kirkland, WA, SR Education Group was founded in 2004 by CEO Sung Rhee. The company's mission is to create authoritative online resources for students seeking an online education program that best suits their budget and career aspirations. SR Education Group is passionate about making quality education attainable for everyone and believes that objective information about education, careers, and educational financing should be free and easily accessible. For more information, please visit http://www.sreducationgroup.org.