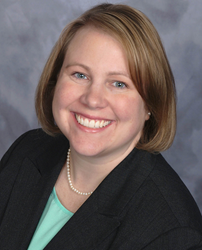 Danielle is the consummate title professional. Her underwriting approach is thorough, yet appropriate for getting the deal closed while protecting parties and the underwriter.
Miami, Fla. (PRWEB) February 01, 2016
Danielle L. Kaiser has joined North American Title Insurance Co. (NATIC) as its vice president, regional underwriting counsel for the Eastern region. Initially focusing on Indiana and Ohio, Kaiser will eventually also support NATIC agents along the Eastern Seaboard and into the South.
"Danielle is the consummate title professional," said Valerie Jahn-Grandin, executive vice president, NATIC chief underwriting counsel. "Her underwriting approach is thorough, yet appropriate for getting the deal closed while protecting parties and the underwriter. In addition, Danielle understands the critical need to take an active role in developing legislation and compliance matters, and is most successful in such a role."
Most recently, Kaiser spent three years in Carmel, Indiana, as underwriting counsel for a regional title insurance company. She began her title career in 2007 as director of member services and assistant underwriting counsel for an Indianapolis-based underwriter, and was later promoted to vice president.
Kaiser is a member of the Indiana Land Title Association (ILTA), served in 2012 as its president and currently serves as chair of its Government Affairs committee. She has presented various ILTA title professional seminars, provided Lobby Day legislative updates and spoken at numerous industry forums. Kaiser also holds the prestigious National Title Professional designation from the American Land Title Association.
"Danielle will be part of NATIC's growth across the country," added Jahn-Grandin. "We plan to use her skills to benefit all our agents, regardless of jurisdiction. She will take an active role in agent training on TRID issues as well as broader underwriting issues. As a person who understands agents and enjoys tackling their problem transactions, Danielle welcomes a relationship that involves training and moving that agent to the next level – helping that agent grow and develop to their full potential."
A graduate cum laude from the University of Notre Dame, Kaiser graduated from the Indiana University School of Law – Indianapolis. She is admitted to practice law in Indiana and is a member of the American Bar Association.
"I have built great relationships with agents through my work in underwriting and also through involvement in industry associations," said Kaiser. "I'm impressed with NATIC's approach to title insurance and pleased to be part of a team that seeks growth and opportunities."
Kaiser may be reached at telephone number (317) 625-5605.
About North American Title Insurance Co. (NATIC)
North American Title Insurance Co. (NATIC) is a seasoned title insurance underwriter, helping title agents to achieve the goal of true business success for over 50 years. NATIC conducts real estate settlement services in 39 states and the District of Columbia. NATIC earned the reputation as the "underwriter next door," because their decision makers and associates are easy to reach and their processes are quick and straight forward. The NATIC agency application process is fast and transparent for qualified agents. NATIC has a one-hour underwriting response guarantee that is unparalleled in the industry.
NATIC is the largest capitalized company in Peer Group 2, which groups companies with capitalization between $25 million and $100 million as determined by Kroll Bond Rating Agency, Inc. NATIC is ranked 7th by The Performance of the Title Insurance Underwriters© in terms of cash or cash equivalents. North American Title Insurance Co. maintains over $84 million* in cash or invested assets. This represents over 92 percent of the company's assets and is characteristic of the most important attribute to title protection, namely, financial responsibility. *As of 12/31/2014.
Demotech, Inc. awarded NATIC a rating of: A' (A Prime) Unsurpassed. A.M Best rated B++ (Good). NATIC is headquartered in Miami, Florida. To learn more, visit http://www.natic.com.