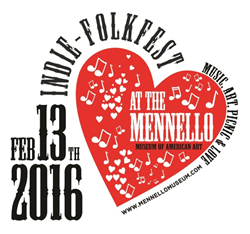 (PRWEB) January 27, 2016
For Immediate Release
The Mennello Museum Of American Art Presents The 2nd Annual "Indie-Folkfest" On Saturday, February 13
Enjoy the Fun, Family-Friendly and Free Festival Dedicated to Music, Art, Picnic and Love That Brings Together Local Artists, Musicians, Food and Drink Specialties for an Unforgettable Community Celebration in the Museum's Lakeside Sculpture Garden
Just in time for the season of love, The Mennello Museum of American Art announces its 2nd Annual "Indie-Folkfest" returning to the beautiful lakeside Sculpture Garden on Saturday, February 13 from Noon to 5pm. The volunteer board of the museum's City of Orlando-appointed Board of Trustees works year-round to deliver the special Valentine's Day-themed family picnic festival that celebrates Florida music, artists, food and community. The fun-filled event is free and open to the public and features local musicians and artists with foodie-friendly goodies, tasty beverages and unique crafts for sale. Picnic blankets are encouraged and furry friends are welcome for a festive and delightful afternoon of music in the winter sunshine.
"Last year's inaugural Indie-Folkfest was an inspiration," says festival producer Genevieve Bernard. "It exceeded our hopes and expectations resulting in an annual event the board and staff are eager to continue for years to come. We are all very excited to celebrate the wonderful things our community has to offer at this year's fun event and look forward to the crafts, cuisine and artistry that only the Indie-Folkfest at the Mennello Museum can present."
While they picnic and stroll, guests of Indie-Folkfest will enjoy a continuous lineup of live music from local musicians Terri Binion, Eugene Snowden & Friends, JUNOsmile, Steve Garron Threesome, Kaleigh Baker and Brown Bag Brass Band. Artists will be plentiful making one-of-kind Valentine's gifts and other specialty crafts like Dawn Schreiner's limited-edition series of Star Wars Valentines offered only at the festival, delicate fashions by Annette King, specially designed cards from Lure Paper Goods, whimsical folk pieces by Ken Pease, eccentric window paintings by Jon Napoles and custom ceramics by Brown Mouse Clay. The fence-painting zone and Valentine creation station will also be ready for all-age expressions.
In addition, festival-goers can indulge in foodie-friendly small plates and snacks from vendors of the award-winning East End Market, tasty cuisine by 4 Rivers Smokehouse and craft cocktails by Central Florida hotspots Hanson's Shoe Repair, Herman's Loan Office, The Courtesy Bar, Lil Indies, Thirsty Topher, Artisan's Table and more. Plus, tickets will be for sale throughout the afternoon for raffles and live auctions of gifts and services generously donated by local businesses.
Don't miss the 2nd annual "Indie-Folkfest" brought to you by the Mennello Museum of American Art located at 900 E. Princeton St., Orlando, FL, 32803. Parking is available nearby. Bicycling and walking to the festival is encouraged. For more information, visit https://orlandofolkfestival.wordpress.com or call 407.246.4278.
###
MEDIA CONTACT: Ilene Lieber, Passion PR Consulting, 321-277-7812, ilene(at)passionprconsulting(dot)com