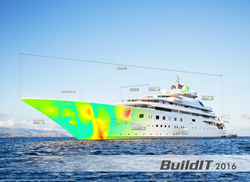 BuildIT 2016 includes redesigned reporting and new GD&T functionality featuring the optimization of evaluations using MMC on datums in DRF
Montreal, QC (PRWEB) January 29, 2016
BuildIT Software & Solutions Ltd. is pleased to announce the release of BuildIT 2016, a major update to the 3D metrology software. BuildIT 2016 adds many new features and improvements including updates to the UI, redesigned customized reporting, enhancements to process automation capabilities and new GD&T functionality featuring the optimization of evaluations using MMC on datums in DRF.
BuildIT enables quick and easy dimensional inspection of manufactured parts and assemblies for tool building, assembly, alignment, process automation, quality control and reverse engineering. With both numerical and graphical feedback of real-time deviations, BuildIT allows users to position parts with micrometer accuracy for high-precision assembly and alignment applications. Advanced point cloud processing and STL mesh generation features extend the software's capabilities to reverse engineering applications such as 3D printing, rapid prototyping and CFD analysis.
Key features include CAD-to-part inspection, GD&T analysis, creation of custom automated processes and generation of extensive custom reports. The software interfaces in real-time with a variety of probing and scanning measurement devices from all major hardware vendors, including FARO, Leica, Romer, API, Creaform, Kreon and AICON, enabling the quick and efficient acquisition of dimensional information from a tool or part. BuildIT directly reads 3D CAD files from native (CATIA®V4 V5 V6, NX, Parasolid, CREO (Pro/E), Inventor, SolidWorks, AutoCAD) or neutral formats (IGES, STEP, SAT, JT, STL), as well as GD&T, FTA and NX-PMI assembly level data for model based inspection and assembly. In addition, BuildIT imports measured point data from external sources for maximum compatibility.
BuildIT supports DML export, enabling Statistical Process Control (SPC) through DPV, a Siemens PLM product. The ability to perform a statistical analysis of the manufacturing process complements BuildIT's core offering by expanding the use of the analysis data into control charts to reduce waste and increase product conformity.
A free trial of the latest version is available for download on the company website.
Download Free Trial
About BuildIT Software & Solutions Ltd.
BuildIT develops and distributes custom and off-the-shelf 3D software solutions that interface with measurement devices for real-time part inspection, tool building, assembly, alignment, measurement process automation, reverse engineering and quality control in advanced manufacturing. A privately-held company headquartered in Montreal, Quebec, BuildIT has gained the trust and partnership of many of the world's largest civil and defense contractors and has been instrumental in global programs such as the JSF F-35. BuildIT is also a Siemens reseller partner, specializing in their PLM software solutions for Quality Management in Manufacturing. For more information about the company or its products, please visit: http://www.builditsoftware.com