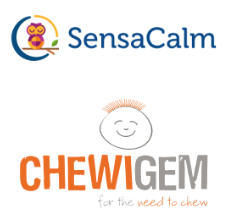 These partnerships offer a variety of benefits for the partner, as well as the SPD Foundation...
Denver, CO (PRWEB) January 28, 2016
The Sensory Processing Disorder Foundation announces two new corporate partnerships, both which promote and enhance the care of those living with Sensory Processing Disorder and similar diagnoses. These partnerships offer a variety of benefits for the partner, as well as the SPD Foundation, allowing for greater exposure to the public of the quality products these partners sell and to expand name recognition mutually by sharing market audiences.
SensaCalm, located in Chattanooga, Tennessee, specializes in the manufacturing and selling of quality, therapeutic weighted blankets, weighted vests and belts, scented lotions and soaps, ID bracelets, and more. All products are handpicked, ensuring only the very best selection. "We understand what it's like loving someone with sensory needs, and we want to help make life less stressful and more restful for the whole family," says Donna Chambers, Founder and CEO of SensaCalm.
Ms. Chambers had never heard of a weighted blanket before her grandson was diagnosed with autism spectrum disorder in 2008. It was then that she learned about these therapy blankets and their many benefits. Donna started to look for the perfect blanket and became frustrated over the quality and lack of affordability. So she decided to make one herself. With help from a friend, the two made a pattern, and through trial and error, created their first weighted blanket in the quilting room of their church.
For the next few years, business grew steadily, and the team along with it. Donna contracted more seamstresses, and several new people joined the office to help things run smoothly.
After a while, Donna realized she wanted to take the business in a new direction and offer more variety to her customers. Her goal was to create a one-stop shop for people with sensory needs. In September 2011 a new name was selected SensaCalm, and the expanded product line included weighted vests and belts, sensory products such as soaps and lotions, safety gear, ID bracelets, and more.
"We serve the very same community of people as the SPD Foundation, so our partnership is a natural," said Ms. Chambers.
Chewigem™ was founded in the UK by a mother that was looking for alternative jewelry ideas for her teething infant. After successfully launching a product line to meet that need, she quickly discovered that these products could also be used to calm the most fidgety of folks and meet the chewing needs of individuals of all ages. Chewigem™ was born out of the need to provide a stylish, yet discreet alternative to those that have extra needs to chew.
Chewigem™ USA, located in Norman, Oklahoma, was launched in September 2013 "As parents of a child with Asperger's, we clearly understand the importance of a quality product that provides comfort and confidence to a child in need. We have lived through the restless days and nights of sheet and clothes chewing and personally know the value of this product," said Shelli Smartt, owner of Chewigem USA.
Chewigem USA was created when the owners were searching for a chewable solution for their older child that would serve to provide much needed oral input, yet look less clinical in nature. Their worldwide global team consists of parents, therapists, and teachers. Together they work toward making designs that will benefit those with Sensory Processing Disorder, ASD, ADHD, and others within the special needs community. "We pride ourselves on bringing solutions to our customers everyday through our own parenting experiences," said Ms. Smartt.
"We chose to partner with SPD Foundation, as so many families have a sensory related diagnosis in addition to other diagnoses. As parents to a child with sensory needs, we value the dual model of research and support provided by SPD Foundation and the Star Center. Being a national company that supports those with additional needs, it was important for us to find a like-minded corporate partner that shared our values and mission," said Ms. Smartt.
The SPD Foundation would like to thank their longstanding partners for their continued 2016 support: Flaghouse, iLs, Landscape Structures, and Miller & Steiert PC.
About SPD Foundation: The Sensory Processing Disorder (SPD) Foundation, a Colorado 501(c)(3), is the world leader in research, education, and awareness for Sensory Processing Disorder, a neurological condition that disrupts the daily lives of more than 4 million Americans. The SPD Foundation offers educational programs, conducts SPD research, and provides resources for parents worldwide. Dr. Lucy Jane Miller, widely recognized as a leader in SPD research worldwide, founded the SPD Foundation in 1979. The SPD Foundation provides hope and help to individuals and families living with SPD. For more information, visit SPDFoundation.net or call 303-794-1182.
About Chewigem:
Chewigem™ was founded in the UK by a mother that was looking for alternative jewelry ideas for her teething infant. After successfully launching a product line to meet that need, she quickly discovered that these products could also be used to calm the most fidgety of folks and meet the chewing needs of individuals of all ages. Visit: http://www.chewigemusa.com
About Sensacalm:
SensaCalm specializes in the manufacturing and selling of quality, therapeutic weighted blankets. Aside from weighted blankets, SensaCalm offers a large variety of sensory products including weighted vests and belts, scented lotions and soaps, ID bracelets, and more. All of our products are hand-picked, ensuring only the very best selection. We understand what it's like loving someone with sensory needs, and we want to help make life less stressful and more restful for the whole family. Visit: http://www.sensacalm.com