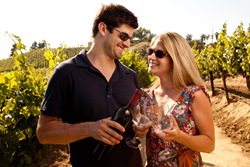 Temecula, CA (PRWEB) January 28, 2016
Temecula Valley Southern California beckons lovers with romantic hilltops, vibrant colors and breathtaking sunsets. It's the ideal setting to create beautiful memories with the one you love. Known for wedding proposals, destination weddings, and anniversary celebrations, Temecula Valley is a lovers' paradise. Welcoming 2.6 million visitors each year, the casual, picturesque Temecula Valley is located 60 minutes from San Diego and Orange County, and within 90 minutes of Los Angeles and Palm Springs.
There's so many ways to say, "I love you," when it comes to making Valentine's Day memorable in Temecula Valley Southern California Wine Country. Whether floating above the vineyards, riding through the vines or enjoying food and wine in a romantic setting, Temecula Valley has everything to make a romantic stay special for Valentine couples.
Snuggle in a Temecula Valley Hotel Room
Visitors can stay the night at any of the resorts and hotels in Temecula Valley, or choose from a Valentine's package. Pechanga Resort & Casino Romance Package includes four-diamond accommodations, chocolate-covered strawberries and sparkling wine upon arrival, plus in-room breaks for two and 1pm late checkout. Temecula Creek Inn Date Night Package includes one-night stay with a complimentary room upgrade, $75 credit for a romantic dinner at Cork|Fire Kitchen, sweet treat welcome amenity of sparkling wine and chocolate truffles, complimentary turn-down service and 2pm late checkout. Hotel Palomar Wine & Dine Package includes one-night accommodation, dinner for two at Baily's restaurant, then time to hold hands along the historic boardwalks of Old Town Temecula. For details, visit http://www.winecountryromance.com.
Float Above the Vineyards
Couples can watch the sunrise together in a hot air balloon floating over the vineyards. Magical Adventures Balloon Rides offers three hot air balloon or helicopter rides for the price of two. No limit! This special is only available February 12-15 by reservation, 866-365-6987. Sky's the Limit Ballooning Adventures offers hot air balloon flights on this magical day for $159 per person (non-private flights). This includes a continental style champagne breakfast. Reservations can be made at 800-558-5828. California Dreamin' special Valentine balloon rides are February 13 & 14. Every couple will be presented with a bottle of Vinedemia 2014 Sauvignon Blanc as a memento. The cost is $208 per person, reservations are required, 800-373-3359. Another sky adventure is a one of a kind flight over wine country inside a small plane. Special discounted February 12-14 rates are a 30-minute vineyard flight and wine package for $299 per couple, and the first 20 purchases will receive a complimentary book "Hooking Up with Mr. Right and Taking Flight" authored by the pilot himself. Reservations can be made at 800-959-9621.
Watch the Sunset in a Horse Drawn Carriage
There is something magically romantic about a horse and carriage ride through wine country. Temecula Carriage Company offers private horse drawn carriage rides for couples, complete with intimate vineyard sunset, a bottle of sparkling wine and a picnic basket of goodies. Reservations for a one or two hour ride are available at 858-205-9161.
Dine Together at a Beautiful Winery Restaurant
Many wineries in Temecula Valley Wine Country have amazing dining options with panoramic views or nestled within the vineyards. Pinnacle Restaurant at Falkner Winery offers a Valentine's Wine Dinner consisting of a five-course meal with individual wine pairing in this panoramic, hill-top location. The price is $99 per person, plus tax and gratuity on February 13th and $115 per person on February 14th. Additionally, from February 12-14 there will be a Valentine's lunch for $59 for two, plus tax and gratuity. Call Falkner Winery for reservations, 951-676-8231. Carol's Restaurant at Baily Winery offers a Valentine's Lunch on February 13 & 14 at 11:30am and 3:30pm for $29.95 per person, plus tax and gratuity. Reservations available with credit card at 951-676-9243. Baily's Estate Tasting Room is offering a Romantic Valentine Candlelight Tasting for 2 February 11-14 from 11:30am-3:30pm, for $35 per person. Reservations with a credit card can be made by calling 951-972-9768. Café Champagne at Thornton Winery is celebrating Valentine's Day on February 13 & 14 with a special three-course menu for $82 per person, plus tax and gratuity. For reservations, call 951-699-0088. Annata Bistro at Mount Palomar Winery will serve a special Valentine four-course meal and a bottle of wine on February 13 & 14, from 11am-8:30pm, for $120 per couple. For reservations, please call 951-676-5047, ext. 10. Oak Mountain Winery offers a Valentine dinner with the owners from 6pm-9pm on February 14th for $125. Call 951-699-9102 for reservations.
Celebrate at AAA Four Diamond Pechanga Resort & Casino
Feel the love with delicious dinning specials on Valentine's Day at Pechanga Resort & Casino. The AAA Four Diamond Great Oak Steakhouse will offer a prix fixe three-course menu for $68 per person, plus tax and gratuity. For Italian romance, Paisano's Italian also offers a prix fixe menu for $48, plus tax and gratuity. Kelsey's is for the less formal, with 48 microbrews on tap and sports on TVs. Umi Shushi and Oyster Bar for sushi and seafood lovers offers a prix fixe menu for $54, plus tax and gratuity. Journey's End inside Journey at Pechanga golf clubhouse offers beautiful golf course views and special Valentine's menu options from 11am-5pm.
For more information about Temecula Valley as a romantic getaway, please visit VisitTemeculaValley.com.
ABOUT THE TEMECULA VALLEY AND VISIT TEMECULA VALLEY
Temecula Valley is widely recognized for its scenic vineyards, award-winning wines, and friendly wineries as Temecula Valley Southern California Wine Country. The destination includes the Temecula Valley A.V.A. (American Viticulture Area) as well as Old Town Temecula, and Pechanga Resort & Casino.
Visit Temecula Valley is the official tourism marketing organization and resource for visitors in the Temecula Valley Southern California region. Visit Temecula Valley is online at VisitTemeculaValley.com; "Temecula Valley Southern California Wine Country" on Facebook; @Visit_Temecula on Twitter; and at FilmTemecula.com. The Temecula Valley Visitors Center is located in Old Town Temecula on Mercedes Street adjacent the Old Town Parking Garage. For visitor assistance, call 888/363-2852 or 951/491-6085.