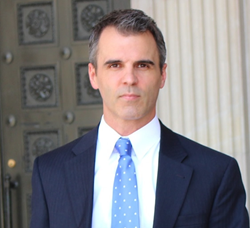 Nursing home neglect and abuse often stems from facilities trying to function with too few staff members. I confront this regularly in my nursing home litigation practice.
Philadelphia, PA (PRWEB) March 03, 2016
Philadelphia Nursing Home Abuse Attorney
Licensed in Pennsylvania and New Jersey, Brian P. Murphy, Esquire, is a personal injury attorney who focuses exclusively on nursing home abuse and neglect cases in Philadelphia as well as throughout the states of PA and NJ.
After working for numerous law firms in the area, Mr. Murphy decided it was time to open his own law practice and, in the fall of 2015, established The Law Firm of Brian P. Murphy, PC, located in Newtown, Bucks County, Pennsylvania. Telephone: 215-579-8500.
From bedsores to wrongful death, falls, malnutrition, dehydration, wandering, elopement, stool impaction, and other injuries that are largely avoidable and result from neglect and abuse, Brian Murphy has litigated cases involving a wide range of negligent care. Sharp and aggressive, Mr. Murphy takes swift action against these nursing home facilities, holding them accountable for their wrongdoing.
There are many reasons to contact a qualified nursing home abuse attorney such as Brian P. Murphy. Whether you are selecting a nursing home, currently have a loved one in a nursing facility, or have lost a friend or relative due to nursing home neglect, Mr. Murphy can tap his extensive experience litigating nursing home matters throughout New Jersey and Pennsylvania and bring you justice.
The range of practice areas covered include:

bedsores
dehydration
elopement
falls and fractures
malnutrition
wrongful death
medication errors
elder abuse
pressure sores
infections
and much more
The Truth About Staffing
Staffing is a nursing home's highest cost of doing business. In an effort to keep costs down, for-profit nursing homes routinely reduce their staffing levels often to dangerously low levels. This inevitably leads to a reduction in the quality of care provided to residents and often results in resident neglect. Mr. Murphy is available to discuss staffing issues and other red flags that should be watched when care is trusted in the hands of an assisted-care or nursing home facility.
Attorney Background
For many years, Brian P. Murphy, Esq. has tailored his law practice to assist victims of nursing home neglect and abuse throughout the states of New Jersey and Pennsylvania, including major cities such as Trenton and Philadelphia. Mr. Murphy has been at the forefront of nursing home abuse and neglect, an area of litigation that is a rapidly growing. He has helped spearhead legal efforts in both New Jersey and Pennsylvania to hold long-term care and nursing home facilities accountable when they abuse and neglect the residents, especially the elderly. Mr. Murphy has litigated a plethora of nursing home cases and earned his clients millions of dollars in compensation.
Because of Brian Murphy's lengthy attorney profile pertaining to nursing home litigation, he is in demand as a speaker on nursing home abuse and neglect issues. He has lectured fellow attorneys nationally, regionally, and locally on the best way to effectively litigate nursing home cases. Mr. Murphy is also the author of several law articles and legal guides on the topic of nursing home abuse.
Experience Matters

Admitted to practice and a member of the Pennsylvania State Bar
Admitted to practice and a member of the New Jersey State Bar
Admitted to practice before the U.S. District Court for the District of New Jersey
Member of the American Bar Association
Member of the American Association of Justice
Member of the Philadelphia Trial Lawyers Association
Member of the AAJ Nursing Home Litigation Group
Member of the Mercer County Bar Association
Graduated from Rutgers School of Law, Juris Doctorate
Graduated from Rutgers College in New Brunswick, New Jersey.
For more information, please contact Brian P. Murphy directly (215) 579-8500, or visit the law firm's Personal Injury website.
All personal injury cases are handled on a contingency fee basis.
Press release writing by WebSiteText, LLC
Proofreading Services by The Proofreaders