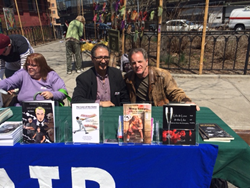 Boulevard Books will ghost write your next best-seller!
Staten Island, New York (PRWEB) January 29, 2016
What is it that survives the test of time throughout the centuries? It is a book. The great narratives of history serve as a useful tool to remind future generations of the great men and women who have carved a memorable path with their time on earth. To write and publish a book is to create an eternal legacy of memories, and with Boulevard Books, the author will keep 100% of the royalties, creating a lifetime of income for generations to come.
Boulevard Books is the only company that writes, distributes, and markets best sellers worldwide, across every platform available today. Writers who work with Boulevard Books will craft a unique narrative that reflects the author's vision.
Boulevard Books was founded in 2010 by author and educator, Avi Gvili. We know writers because we are writers!