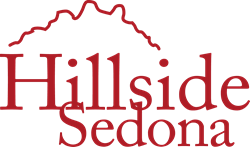 (PRWEB) January 29, 2016
Hillside Sedona Shopping Center is celebrating love and all things red during the month of February.
Valentine's Day is just around the corner so that has people thinking and favoring the color red, so why not celebrate the color red at Hillside Sedona. With the multitude of boutiques and galleries, the options are unlimited when it comes to red purchases. Places like "A Step Up" have the latest in foot fashion with red shoes always making a statement. Boutiques like "Allie Ollie," "Diva" and even our newest boutique, "Judy Arizona," give guests lots of options when it comes to the color red. Whether it's an accent piece like a sweater, a blouse, scarf or perhaps a fancy piece of red jewelry, guests will surely be noticed in their red.
Galleries also have pieces to not only celebrate "love" but the color red. The James Ratliff Gallery not only has pieces on display that have red as the prominent color in their color scheme, you can also find art pieces that display love and hearts throughout. Stone Creations also has pieces that have the color red prominently displayed within them. Also, nothing screams romance more than strolling through the galleries arm in arm, surrounded by the ultimate red work of art, the red rocks of Sedona.
Guests can easily experience the color red even while they dine. At the Javelina Cantina red sauced enchiladas are always on the menu, The Hudson is serving up red meat with their prime beef dishes. With both of these restaurants guests can enjoy their meals basking not only in the glow of fire pits placed in and around each of their patios, but during the day the beauty of what Sedona is known for in their red rocks.
Conveniently located off of State Route 179 in Sedona, a heavily-trafficked retail area, Hillside Sedona is comprised by longtime tenants which include the James Ratliff Art Gallery, Tea Light Cafe' and The Bridge at Sedona wedding and event venue, among other boutiques, a salon and Mooney's Irish Pub.
Hillside Sedona:
In 1986, Shirley Caris developed Hillside Sedona, bringing to it the spirit of nature, artistic qualities and the essence of the town she now called home. An upscale retail shopping center, Hillside Sedona is home to fine art galleries, unique boutiques, a variety of restaurants, locally owned shops and the event venue, The Bridge at Hillside. The popular Northern Arizona destination is filled with sites and attractions that are sources of inspiration to many. In a setting with a view of the Red Rocks that surround the property, Hillside Sedona also is a perfect destination location for photography. http://www.HillsideSedona.net
Media contact:
Christine Holtz
Phoenix Marketing Associates
602-282-0202
XXX