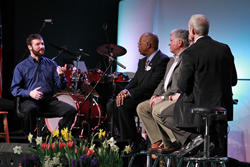 "Many Christians don't see the multitude of ministering possibilities in front of them at work," said Proudfit. "This event will teach Christians how to engage in faith discussions at work."
CINCINNATI, Ohio (PRWEB) February 02, 2016
Working Christians interested in learning how to BE the church at work are invited to the 13th annual At Work on Purpose (AWOP) "Marketplace Mobilization 2016" on Saturday, March 5 on the Cincinnati Christian University campus.
Admission is free, with free parking, food and beverages, and live worship music. Registration is required. The event runs from 9 a.m. to noon.
AWOP is the nation's largest, citywide marketplace ministry, with more than 8,000 members in greater Cincinnati and Dayton. The organization is dedicated to equip everyday Christians to find and fulfill God's purposes at work.
"Many Christians don't see the multitude of ministering possibilities in front of them at work," said Chuck Proudfit, founder and president of the 13-year-old nonprofit organization. "They may be hesitant to reach out to coworkers in pain with a faith message or think the workplace is indifferent to a discussion of faith issues. But that is very far from the truth. This event will teach Christians how to engage in faith discussions at work."
This year Marketplace Mobilization will feature six breakout sessions on how to integrate faith and work through success strategies and provide networking opportunities with other working Christians.
The sessions include:
--Climbing the Corporate Ladder without Losing Your Soul: Participants will explore how to juggle career advancement with spiritual development and leave with practical principles to get started. Presenter is Al Erisman, author of The Accidental Executive and a leader in the International Faith & Work Coalition through the Theology of Work Project in Seattle.
--Engaging Local Churches in Work Life Ministry: Matt Rusten, executive director of the Made to Flourishnetwork in Kansas City, a national and ecumenical community of local churches establishing work-life ministry, will speak on how to awaken the imagination of your local church to ministry possibilities in the marketplace.
--Putting Worship into Everyday Work: Jacob Crawford, director of opportunities at Website Workbox in Bellbook, and a prayer intercessor, will provide tips on how to serve people spiritually through work, gradually "earning the favor of the people."
--Sharing the Good News at Work: Doug Pollock, author of God Space and a national trainer with Athletes in Action, will speak on how to be the Church in everyday life so it becomes more natural to engage in spiritual conversations at work.
--Mentoring in the Marketplace: There are many forms of discipleship in the Christian community, but life-on-life mentoring is one of the most powerful. Terry Grear, CEO of ScrogginsGrear and author of Could Jesus Have Been a CPA? will explore how to be a spiritual teacher to a motivated student.
--Hearing God's Voice on the Job: Rusty Geverdt, founder of the Cincinnati House of Prayer and co-founder of Witheos, will talk on listening to God's "still, small voice" amidst the clutter and commotion of everyday life.
To register to attend Marketplace Mobilization 2016, go to http://www.atworkonpurpose.org and click on the "Register Now" button, or go to http://bit.ly/1ZcQuKU.
Cincinnati Christian University is located at 2700 Glenway Ave., Cincinnati, Ohio, 45204.
For more information about AWOP programs, its faith-at-work tools, roundtables and events, go to http://www.atworkonpurpose.org or call (800) 513-9580.
# # #
Contact: Laura Jackson
Email: ljackson(at)skillsource(dot)com
Phone: (800) 513-9580
About At Work on Purpose:
At Work on Purpose is the nation's largest, city-wide marketplace ministry. Based in Cincinnati, the nonprofit organization helps working Christians mobilize the work world for Christ by offering inspiring and proactive ways to help them integrate faith into their work, transforming their jobs into platforms for ministry.