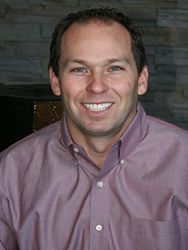 Durango, CO (PRWEB) January 29, 2016
Patients who would like to enhance their facial features and reduce their fine lines and wrinkles can now turn to Dr. Mason Miner, a dentist in Durango, CO, for treatment using Dermal Fillers and Botox®. Dr. Miner recently completed the number-one rated, most advanced training in the field, which is offered by the American Academy of Facial Esthetics. This course acts as a capstone to the doctor's extensive training in delivering facial treatments, as he has been expanding upon various techniques for more than two years.
The AAFE course included valuable and necessary information for practitioners who wish to perform these procedures with the highest level of training they can achieve. Information within the course included advanced facial anatomy, facial proportion and symmetry, which products to use for the best results, specific treatments to use for different objectives and outcomes, and how to achieve precise results.
As a dentist in Durango, CO, the doctor understands these treatments are just one more key to helping patients enhance their smiles and look their best. Dermal Fillers are used to replace the collagen in and around the face that is naturally lost through the aging process. Dermal fillers are simply injected into the areas where volume has been lost (cheeks, lips, folds in the skin, deep lines); these treatments provide a more youthful appearance that also reduces the amount of fine lines in the area. Patients may see results for as long as two years following a procedure. One advantage Dr. Miner provides, is numbing certain areas before placing dermal fillers to help make it a more comfortable experience for the patient. Dr. Miner uses several types of dermal fillers to obtain the desired results including, Juvederm, Voluma, Radiesse and Belotero Balance.
Botox® is another treatment option for patients looking to reduce the effects of the natural aging process. The medicine is strategically injected into the skin to temporarily reduce the appearance of wrinkles, creases and fine lines in the face. Botox® can also be used for subtle lip enhancements, to treat a gummy smile or for lifting and contouring eyebrows. Dr. Miner can treat all areas of the face and neck with Botox®. This includes the forehead region, eyebrows (achieving the "Golden arches"), midface, lower face (including the chin area), jawline and the neck. Dr. Miner's level of expertise can provide patients with high quality results they may not have imagined was possible.
Those who would like to learn more about both Botox® and dermal fillers from a highly trained dentist in Durango, CO, are invited to contact Dr. Miner to schedule an appointment. Interested individuals can also find more information on his website, as well as see before and after photographs.
About the Doctor
Dr. Mason Miner is a general dentist offering personalized dental care for the entire family, in Durango, CO. Dr. Miner is a graduate of Marquette University School of Dentistry in Milwaukee, Wisconsin. Beyond that, he also completed training in Advanced Education in General Dentistry at the University of Missouri, Kansas City. Dr. Miner focused his studies on the surgical placement and restoration of dental implants, which he offers as a service at his practice. Dr. Miner is a member of the American Academy of Facial Esthetics, American Dental Association, the Colorado Dental Association and the San Juan Basin Dental Society. To learn more about the services offered by Dr. Miner, please visit his website at http://www.masonminerdds.com or call (970) 306-0535 to schedule an appointment.