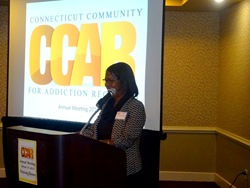 I really appreciated having a safe, supportive place where I could rebuild my life.- Tony Recck
Cromwell, CT (PRWEB) January 30, 2016
Face it. Most nonprofits have pretty dry annual meetings, but not the Connecticut Community for Addiction Recovery (CCAR). It was more like a celebration. Six speakers shared their respective gratitude for how this recovery community organization either helped them immensely or in some cases, saved their lives.
20-year old Lance Supersad, a volunteer with the CCAR Young Adult & Family Project, 'I didn't know I was an addict until I got arrested. But now that I know, I'm glad I'm in recovery".
Tony Recck, who makes Telephone Recovery Support calls referred to the CCAR Windham Recovery Community Center this way. "I really appreciated having a safe, supportive place where I could rebuild my life."
Nancy Angelakopoulos is a mother of two sons struggling with addiction and volunteers in Hartford. "I can't say enough about CCAR. They helped me in my recovery from the effects of drugs and alcohol. My heart was longing for a long time to find a place where I belonged, a place where I felt comfortable sharing what my hurts, pain, disappointment and anger about what drugs and alcohol had done and caused in my life. CCAR was the place for me..."
Another highlight was Dr. Arthur C. Evans, Jr., Ph.D. received the Bob Savage Recovery Advocate of the Year Award for his recovery-oriented leadership as Commissioner of Philadelphia's Department of Behavioral Health and Intellectual Disability Services (DBHIDS), a $1 billion dollar a year agency. Bob Savage, founder of CCAR was on hand to present the award. Dr. Evans then gave a talk about some impressive endeavors in Philadelphia.
The meeting was facilitated by Board President, Thomas Kirk, Ph.D (former Commissioner of the Connecticut Department of Mental Health and Addiction Services (DMHAS)). He introduced the current DMHAS Commissioner, Miriam Delphin-Rittmon, Ph.D., CCAR Managing Director Deb Dettor and CCAR Executive Director Phil Valentine who all highlighted accomplishments from the 2015 CCAR Annual Report.
Board elections were held with about 150 people in attendance.
Since 1998 the Connecticut Community for Addiction Recovery (CCAR) has organized the recovery community (people in recovery, family members, friends and allies) to put a face on recovery and to provide recovery support services to maintain and sustain recovery. By promoting recovery from alcohol and other drug addiction through advocacy, education and service, CCAR strives to end discrimination surrounding addiction and recovery, open new doors and remove barriers to recovery, maintain and sustain recovery regardless of the pathway, all the while ensuring that all people in recovery, and people seeking recovery, are treated with dignity and respect. CCAR envisions a world where the power, hope and healing of recovery from alcohol and other drug addiction is thoroughly understood and embraced. For more information, visit http://www.ccar.us