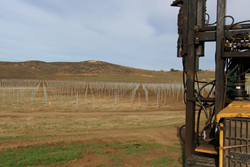 Temecula, CA (PRWEB) January 29, 2016
"Visitors will love how Temecula Valley Southern California Wine Country is growing! So much is new: wineries, restaurants, first-release wines, shopping and places to stay. Less-busy mid-week is excellent throughout 2016 to stay and experience all that is and will be new," announced Kimberly Adams, Visit Temecula Valley president and CEO. "Resorts, hotels, and motels, offer special, Sunday-through Thursday, better-than-weekend, nightly room rates."
Over 40 wineries spread across 1,300 acres of vines in Temecula Valley Wine Country. Each year more wineries open with the promise of new wines for visitors to enjoy. As the region grows, farmers, winemakers and entrepreneurs are attracted to the promise of the region. Carter Estate recently opened with seated tasting of estate and Méthode Champenoise sparkling wine. Fazeli Cellars opened January 2016 as a modern-Moorish winery; the wines' roots run deep with ancient tradition of Persia. The Cave at Oak Mountain Winery opened the first wine cave in Southern California for touring, tasting and dining.
Wineries to look forward to are Avensole Winery & Marketplace and Europa Village. Avensole will include a wine bar, craft beer bar, tasting room, restaurant, tours and first release 2012 Vintner's Reserve Cabernet Sauvignon, hand-select Zinfandel, and Late Harvest Muscat. Europa Village prelude tasting room is an old favorite to visitors in wine country, now their 45-acre vision of Old World European ambiance with wineries, restaurants, retail shops and spa will break ground in 2016. A new winery and farm-to-table restaurant will begin to plant 53 acres of wine grapes this spring and early summer. The new vineyard is the first component of a yet-to-be-named, experiential wine and food centered destination.
New releases in 2016 are Callaway Vineyard & Winery first release, estate, Temecula AVA, Cabernet Sauvignons: 2012 Wild Yeast, 2009 OPR. South Coast Winery introduces its first release Portuguese varietals: estate, Temecula AVA 2013 Alicante Bouschet; 2015 Verdelho. Wilson Creek now pours new California sparkling wines, Coconut Nui and Tahitian Vanilla.
SIP 2016 Temecula Valley Weekday Wine Tasting Passport is now available. The Passport provides award-winning wine tasting at five wineries for $45 per person.
Visitors find they need to stay multiple days to fully experience Temecula Valley, and overnight accommodations are just minutes away from everything there is to do. For history lovers, Hotel Temecula recently opened its doors to its historical 1891 building in Old Town Temecula. All the décor has been preserved and restored to its original condition. La Quinta Inn & Suites recently installed new carpets in its 56-spacious guest rooms, and added new tile and furniture to its lobby and breakfast room. Best Western Country Inn is renovating its 74 spacious guestrooms and baths with completion this May.
Pechanga Resort recently broke ground on a $285 million expansion. When complete, visitors to Pechanga Resort & Casino will enjoy a resort-style pool complex, two new restaurants, a new two-story spa, and a new luxury 568-room/suite hotel wing.
Promenade Temecula shopping mall proposed a new Main Street-style open-air plaza adjacent Macy's for high-end retailers and restaurants.
New restaurants include Kelsey's Bar & Grill at Pechanga and Annata Bistro at Mount Palomar Winery. Kelsey's is newly reinvented, serving slow-smoked, braised, fine-cut, aged meats and 40+ micro/craft beers on-tap. Annata Bistro opened early January with a Mediterranean-inspired menu and wine country views.
Visitors can find more information and plan their stay at http://www.VisitTemeculaValley.com.
ABOUT THE TEMECULA VALLEY AND VISIT TEMECULA VALLEY
Temecula Valley is widely recognized for its scenic vineyards, award-winning wines, and friendly wineries as Temecula Valley Southern California Wine Country. The destination includes the Temecula Valley A.V.A. (American Viticulture Area) as well as Old Town Temecula, and Pechanga Resort & Casino.
Visit Temecula Valley is the official tourism marketing organization and resource for visitors in the Temecula Valley Southern California region. Visit Temecula Valley is online at VisitTemeculaValley.com; "Temecula Valley Southern California Wine Country" on Facebook; @Visit_Temecula on Twitter; and at FilmTemecula.com. The Temecula Valley Visitors Center is located in Old Town Temecula on Mercedes Street adjacent the Old Town Parking Garage. For visitor information, please call 888-363-2852.