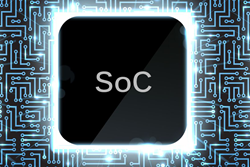 PADS4 offers the opportunity to deploy less-demanding digital signage projects with more cost-effective requirements
(PRWEB) February 02, 2016
In their latest PADS4 digital signage software release Net Display Systems (NDS) has included a native app, dedicated to the embedded SoC (Systems-on-a-Chip) players for the following platforms:

While developing this application NDS was in close collaboration with the technical teams of Samsung and LG. There was a strong focus on the specific features offered by these manufacturers. That resulted in an app that optimally supports the possibilities of both platforms. First of all, with the native SoC app users will always have the right PADS4 version that's available on the server. A built-in version control mechanism in PADS4 will automatically distribute the current release to all Samsung SSSP or LG WebOS devices.
The biggest benefit of the native PADS4 app is that content will continue to play in case of a network failure. NDS offers continuity of content after a power failure. As soon the power is back on, the SoC players will automatically start the PADS4 Viewers, displaying scheduled content and data, retrieved from the cache. Also, network traffic will be minimized by local storage of content with the NDS local storage API.
Furthermore, the native app enables users to choose between landscape and portrait mode presentations. This will offer more flexibility how to deploy Samsung SSSP or LG WebOS devices.
"We are convinced that adding the brand new native application for Samsung SSSP and LG WebOS to our PADS4 software will expand the opportunities of our partner network. Especially to deploy less-demanding digital signage projects with more cost-effective requirements", says Willie-Jan Bons, CEO of Net Display Systems. "This release offers automatic updates and built-in continuity, making our software highly suitable for these platforms".
The native PADS4 app for these SoC players is now included in their standard PADS4 out-of-the-box software package.
Find out how to benefit from the native app that fully supports embedded Samsung and LG SoC players and go to http://www.netdisplaysystems.com to request a free 30 day trial.
About Net Display Systems
Net Display Systems, founded in 1994, is a globally recognized player in high-end digital signage software specialized in Smart Digital Signage. With an extensive partner network the company operates in more than 75 countries. They have already deployed thousands of installations in multiple market sectors varying from transportation, corporate and government to hospitality, retail and healthcare. http://www.netdisplaysystems.com