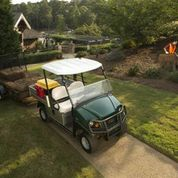 From safe and comfortable people movers to versatile, efficient work vehicles to zero-emissions housekeeping and hospitality vehicles, Club Car has the solutions resorts need.
Augusta, GA (PRWEB) February 02, 2016
As the U.S. commercial UTV market leader, Club Car offers the largest lineup of commercial vehicles in the hospitality industry. Our 2016 Bank on Carryall sales event makes it easier than ever for hotels and resorts to purchase the vehicles they need.
The event allows qualified commercial buyers to purchase any of the following new 2015 or 2016 vehicles with no pay for six months:

Carryall® utility vehicles
Café Express™ merchandising vehicles
Transporter™ passenger vehicles
Villager™ 4, 6 and 8 passenger vehicles
Street-legal Villager™ 2 and 2+2 low speed passenger vehicles (LSVs)
Or, these vehicles may be leased with special financing of 2.9% APR for 36-48 months or 3.9% APR for 60 months.
A Vehicle for Every Application
"From safe and comfortable people movers to versatile and energy-efficient work vehicles to low maintenance, zero-emissions housekeeping and hospitality vehicles, Club Car's got the solutions you need," says Mary A. Sicard, Resorts and Rental Marketing Leader.
Carryall® utility vehicles are available with electric, gas or diesel powertrains and in two- and automatic all-wheel drive two- and four-passenger models that sense the ground they are on and shift automatically.
Electric Carryall LSVs are street legal on public roads with speed limits of 35 mph or less in most state. The larger ones work like pickup trucks, without the price tag. You'll get up to 30 miles per charge, reduce your carbon emissions by tons per year, and keep your crews and cargo moving.
Why Partner with Club Car?
We offer:

Gasoline vehicles with single-cylinder overhead cam EFI engines with better fuel efficiency and power than our competitors.
Reliable, zero-emissions electric utility, transport and low-speed vehicles with heavy-duty controllers and motors that deliver the power of gasoline vehicles while slashing energy usage.
The industry's only rustproof, corrosion-resistant aluminum frame for long life and improved resale value.
A 4-year battery, 3-year/3,000-hour powertrain, 2-year bumper-to-bumper limited warranty on most models.
VersAttach® optional bed-based attachment system for fit-to-task versatility.
The industry's largest selection of commercial-grade accessories.
Trained sales professionals who will help you develop a strategic transportation plan.
For more information or to schedule a demo of any Carryall utility vehicle, visit http://www.clubcardealer/carryallpromotions.com.
About Club Car
Club Car, one of the most respected names in the golf industry, is the world's largest manufacturer of small-wheel, zero-emissions electric vehicles. The company's Precedent® golf cars, exclusive Visage™ Mobile Golf Information System, and Carryall® turf utility vehicles are integral to successful operations at thousands of courses around the world. Carryall utility and transport vehicles are used in a variety of commercial, industrial, government, rental and resort applications. The company also offers street-legal, low speed vehicles (LSVs) for personal and commercial use, all backed by Club Car's 50+ year legacy of superior design, manufacture and service. Club Car is part of Ingersoll Rand, and is based in Augusta, Ga. Visit http://www.clubcar.com.