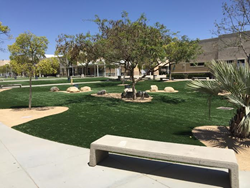 Our educational community appreciates and welcomes the change.
Chula Vista, CA (PRWEB) February 02, 2016
EasyTurf, a FieldTurf® company, recently completed the installation of nearly an acre of synthetic turf at Eastlake High School, part of the Sweetwater School District in Chula Vista, California.
The maintenance staff at Eastlake High had a difficult time keeping the senior lawn alive due to heavy foot traffic. Frequent use led to daily maintenance that was both costly and time consuming. Synthetic turf requires no water and needs minimal maintenance, making it ideal for busy areas.
The project included the removal of existing grass in the courtyard and senior lawn areas and the installation of an aggregate base, perforated drainage systems, artificial turf, and silica sand infill. EasyTurf personalized the installation by providing two strips of blue turf with the words "senior lawn" embedded in white letters.
"EasyTurf was very professional, timely, and budget-minded during the installation of the projects at Eastlake High School," said Larry Moen, PPM in the Planning and Construction Department at Sweetwater Union High School District. "It was a pleasure working with the company and the installation is beautiful."
The EasyTurf lawn has also been a hit with students at Eastlake High. "Since the turf has been installed on our campus, we have seen our school transform into something we can appreciate," said James Owens, current ASB President. "It looks completely different –in a good way. Now we can all sit down during lunch instead of standing around."
Jesus Ulloa, ASB Dean of Student Activities, agreed: "The turf installation at our school has definitely changed the environment. It brings students together during nutrition and lunch breaks. You can see students having picnics or reclining while working on school activities. The main lawns always appear green and clean. Our educational community appreciates and welcomes the change."
In addition to the aesthetic benefits, the amount of water saved by switching to artificial turf can be substantial. The California Municipal Water District estimates that replacing natural grass with artificial turf saves 43 gallons per square foot per year. At nearly an acre, these two installations are poised to save the school thousands of gallons of water.
About EasyTurf®
EasyTurf, a FieldTurf® company, provides environmentally friendly residential and commercial lawns, recreational fields, playgrounds, putting greens, and conservation plans for communities throughout North America. The state-of-the-art turf offers realism, drainage, and durability for both residential and commercial applications. EasyTurf is based in Vista, Calif. (northern San Diego County). More information is available at http://www.easyturf.com or by calling (866) 352-0233.