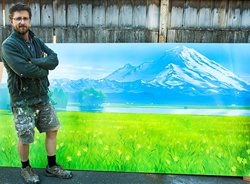 Des Moines, WA (PRWEB) February 08, 2016
Residents in The Arbor, the memory care wing at Wesley Homes Lea Hill retirement community, were treated to the unveiling of a fine art mural by Andy Eccleshall, the well-known artist of land and skyscapes and owner of Andy Eccleshall Fine Art and The Mural Works.
The 5 foot by 70 foot mural, which brings some of Auburn's history and character to the memory care courtyard, was made possible by a donation from Washington Federal and Wesley Homes Foundation. Landscaping was donated by Northwest Landscape Services.
Described as "amazing" and "beautiful" by residents, the mural is the result of an idea by Carla Lopez-Wilkerson, the Activity Coordinator for The Arbor. Lopez-Wilkerson met Eccleshall at the Northwest Flower and Garden Show in Seattle.
"Not only was I amazed by Andy's talent," said Lopez-Wilkerson, "but I felt our meeting was serendipitous. I knew The Arbor courtyard would be half its size once construction of our new rehabilitation and care center began, and I wanted to make the courtyard enclosure interesting. The area needed to remain a place of serenity and reflection during and after construction. I think Andy's art accomplishes that."
Eccleshall's design features the Green River, a train, Mt. Rainier and a field of daffodils, all well-known elements of the Auburn landscape. Using recognizable scenes was an important part of the design since familiar surroundings can play a role in calming an agitated person with dementia.
Though Eccleshall had designed large canvas paintings and murals before, he had to make some adjustments to his design for Wesley Homes Lea Hill.
"Carla's information on the needs of the residents was good for me to have. She wanted to make sure they weren't overstimulated by the art. I did one sketch were the river came toward you, but Carla said that could be confusing for them. She wanted me to keep the design simple but bold in its color intensity since pastels can appear grayish."
The final design has the Green River flowing sideways to encourage residents to follow the river along the mural.
"It was hard for me to stop myself from going more and more into the design," continued Eccleshall. "I've painted murals for 22 years, and I love to include those details. But the simplicity of this mural was meant to stir the memories of the residents and encourage conversation. It needed to be simple."
"I'm so happy with Andy's work," said Lopez-Wilkerson. "The Arbor residents may not be able to go to a museum, but Andy helped me bring fine art to them."
Established in 1944 and affiliated with the Pacific Northwest Conference of the United Methodist Church, Wesley Homes operates two retirement communities and a home health agency. Wesley Homes Des Moines is a continuing care retirement community offering independent living cottage homes, apartments, assisted living and skilled nursing. Wesley Homes Lea Hill in Auburn offers Village Homes, apartments and memory care. Wesley Homes Community Health Services provides home health services to clients throughout the Puget Sound region.