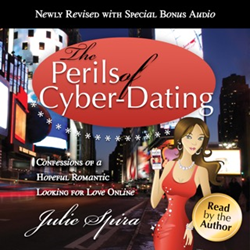 One always wonders about the one that got away. I thought I'd never hear from him again.
Los Angeles, CA (PRWEB) February 02, 2016
Seven years ago, author Julie Spira released her bestselling memoir and online dating book, The Perils of Cyber-Dating: Confessions of a Hopeful Romantic Looking for Love Online, which chronicled her 15-year romantic journey while looking for love on the Internet.
Spira, an Internet dating pioneer, is the CEO of Cyber-Dating Expert. She's a frequent guest in the media for online and mobile dating advice. She went online in the early 1990s where she hoped to replace the former love of her life with an Internet mate. The author wrote about her breakup with her former long-time love in her book, along with the subsequent relationships that followed.
New developments in Spira's love life have sparked fans' interests and have ignited demands to know how the story ends.
Today, Spira is proud to announce the re-release of The Perils of Cyber-Dating, completely revised and updated with new dating advice and a magical epilogue that will help readers believe in love.
"One always wonders about the one that got away," said Spira. "After seven years together with the man I referred to as the 'Love of my Life,' we went our separate ways and married others just days apart. I thought I'd never hear from him again."
Little did the author and celebrity dating coach know, the love of her life also never stopped thinking about her. After his divorce, he read her book for the first time and read about their romance, including how they fell in love at first sight 24 years earlier. He reached out to her on Facebook after Valentine's Day last year and the two reunited after 16 years apart.
Dr. Helen Fisher, biological anthropologist and Chief Scientific Advisor to Match, supports Spira's rekindled romance. "We are built to love and never forget the person we were deeply in love with," says Fisher. "If the timing is right and they come back, the brain circuitry for romantic love can be awakened almost instantly to be back in love again. That person you were deeply in love with before fits within your love map."
Fisher, author of Anatomy of Love (W. W. Norton & Company: 2nd edition: February 1, 2016) says the brain remembers the good times and is built to try again.
"The love of my life returned to me for Act Three and another chance at love," says Spira. "It will be a happy Valentine's Day indeed."
The new edition of the book is available on Amazon. The author narrated the newly released audio book version, available on Audible and iTunes. She is available to speak on how to make rekindled romances work, how to find love online for Valentine's Day, the best mobile dating apps, online dating safety, and online dating profile dos and don'ts.
About Julie Spira
Julie Spira is America's Top Online Dating Expert and Digital Matchmaker. She was an early adopter of Internet dating and has been coaching singles on how to find love online for over 20 years. Spira is the founder of Cyber-Dating Expert and has been featured over 650 times in the media with her online dating and mobile dating advice. She appeared in Vice Media's documentary, The Mobile Love Industry, as the featured dating coach. Her dating advice appears on eHarmony, JDate, Match, PlentyofFish, and Zoosk. Spira is one of Match's relationship experts and ranks as the most influential person in "dating" and "online dating" on social media influence site, Klout. Visit CyberDatingExpert.com. Follow @JulieSpira on Twitter.