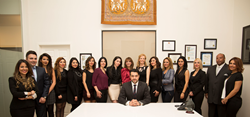 'Receiving recognition from these three principal entities in the state is an honor for Enrich Financial.' - Arian Eghbali, CEO
Beverly Hills, Ca (PRWEB) February 01, 2016
Arian Eghbali, CEO of Enrich Financial credit repair company in Los Angeles, CA, has recently received a Certificate of Special Congressional Recognition to highlight his and his company's invaluable service to the community. The award also appoints Enrich Financial as the top credit repair company in LA.
Enrich Financial, led by CEO Eghbali, has served Tarzana as well as the city of Los Angeles with the utmost quality and dedication. The company focuses on helping clients with bad credit, highlighting people that have been turned down because of shady financial backgrounds and questionable credit histories. Enrich provides key financial services that will help clients improve their financial status, manage existing loans and ultimately become debt-free in the future. Enrich Financial believes that when a person's credit standing is improved, he or she will be able to lead a better and more financially secure life.
Aside from this Congressional Recognition, Enrich Financial has also received several recognitions for its services and tireless efforts in the field of credit repair. One of the most recent, and possibly most humbling, is a letter citing the company and CEO Eghbali's services from U.S. President Barack Obama.
For more information about Enrich Financial, fill out a form at: http://www.enrichfin.net or call 800 610 4575.