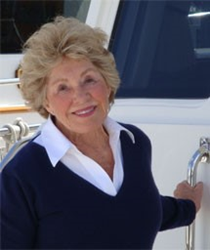 My job is to make every boat purchase, sale, or donation, smooth and professional, in Homeport, or elsewhere.
Essex, CT (PRWEB) February 01, 2016
Essex Yacht Sales LLC, owned and operated by Leslie Quarrier, has acquired the goodwill, boat listings and office facilities of Boatworks Yacht Sales in Essex, CT, which has prospered for over 25 years. Leslie will proudly continue to provide quality service under this new name: Essex Yacht Sales.
With her unique brand of boating knowledge, passion, and courtesy, Leslie has served buyers and sellers alike. She has earned the admiration of clients and fellow brokers throughout the US, by her unwavering professional values, her business success, and her unfailing warmth and charm. These qualities are reflected in Leslie's loyal client list, many of whom she has served multiple times over the years, as Buyers and Sellers, at each stage in their boating careers.
Leslie offers comprehensive knowledge of fine power and sailing yachts, including luxury yachts, Downeast and express cruisers, trawlers and sailboats. Her extensive experience with Grand Banks and Eastbays has gained her recognition throughout the industry.
A Certified Professional Yacht Broker, Certification Advisory Council Member, active member of The Yacht Brokers Association of America, Leslie is also a member of The Florida Yacht Brokers Association and a licensed and bonded Florida Broker.
While there is a new name over the door, Leslie may be reached, as always, at the same address, cell (860) 388-8701 and office number (860) 767-3013.