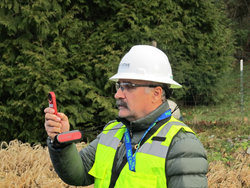 "In the world of construction, worker injuries are unfortunately an all too often occurrence. I am pleased to be part of a dynamic team of safety professionals whose combined experiences are joined to better educate companies and their personnel of hazard
Edmonds, WA (PRWEB) February 10, 2016
Intuitive Safety Solutions, Inc. (ISS) of Edmonds has brought on Edmonds native Richard Thody to join their team as a Sr. Health & Safety Consultant. Thody is a graduate of Woodway High School and also Central Washington University where he earned a Bachelor's degree in Loss Control Management.
Thody has a background of 20 years in the workplace safety management field and brings to ISS his safety management experiences in heavy civil construction, hydroelectric turbine/generator overhauls and various other commercial & industrial construction projects.
Intuitive Safety Solutions is a safety consulting services company providing turnkey safety management solutions delivered by world-class Health, Safety & Environmental (HSE) professionals with the proven experience required for every job specification. Incorporated in 2007, ISS is led by a diverse team sharing one unified objective; they want to be the best safety company in America! What does it mean to them to be the best? The team at ISS act with purpose and measure their success by the satisfaction of their clients and importantly, the growth and performance of their employees.
This is why they call themselves the "Purple Horse" of the safety industry...they stand out from the herd with top of the line processes and procedures, quality assurance in hiring process and the drive to serve their clients with the highest of integrity.
You can learn more about Intuitive Safety Solutions on their website at http://www.intuitivesafetysolutions.com, or follow them on Facebook.