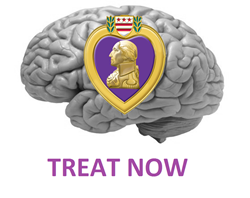 "HBOT is a safe, easily used treatment that has resulted in a dramatic improvement in the symptoms of patients with [TBI/Concussion] ... there is sufficient clinical and research evidence to justify the use of [HBOT] as a standard-of-care treatment."
Washington, DC (PRWEB) February 02, 2016
For Information Contact
Robert L. Beckman, PhD
TreatNOW.org
(703) 346-8432
beckmanr88(at)gmail.com
Effective, Immediate Treatment for Head Injury is Readily Available with Current Medical and Therapeutic Intervention
The TreatNow Coalition is focused on the use of hyperbaric oxygen therapy (HBOT) to treat traumatic brain injury/concussion. "We have spent the last eight years building coalitions of civilian physicians and clinics to provide safe and effective care to more than 1,400 veterans, active duty service members, professional athletes and civilians who have suffered head injuries. Nearly all have experienced significant, often life-altering, improvements in brain function. In more than 20 cases, we have helped heal special operations warriors who were at risk for medical discharges due to head injury," according to Robert Beckman, PhD, Director of the Coalition. He points to published clinical trials that led the Israeli Defense Forces to make HBOT the standard of care for TBI. Beckman also cites research published this month in the journal Neurological Sciences that concludes: "Compelling evidence suggests the advantage of HBOT in traumatic brain injury...suggesting its utility as a standard intensive care regimen in traumatic brain injury."
"Watchful Waiting" and repeated cognitive tests are wholly unacceptable standards of medical care for concussion or any head injury given that effective, brain-healing therapies are readily available, according to TreatNow.org. Regardless of the type of head injury, research has shown that underlying neurological and vascular brain damage can lead to long-term, even fatal, conditions that do not heal themselves. Meanwhile, evidence-based clinical success with head injury treatment protocols worldwide continues to accumulate.
Tragic stories of ball players suffering long-term debilitating consequences of brain injury, the recent release of the movie Concussion and the upcoming championship game, have focused media and public attention on the role of head injury in sports, especially in young people. The head injury epidemic in sports and the recognition of traumatic brain injury (TBI) as the "signature wound" of the wars in Afghanistan and Iraq, have been extensively documented for more than a decade. Treatment has been available for more than 30 years.
It is known that a single blow to the head, multiple impacts or a blast wave, whether from sports, car wrecks or combat, can lead to cognitive impairment, degenerative brain damage, depression, dementia, thoughts of suicide, PTSD, post-concussion syndrome (PCS), and chronic traumatic encephalopathy (CTE), and myriad other complex diagnoses. According to the Centers for Disease Control, there are nearly 2.5 million emergency room visits for traumatic brain injury (TBI) each year in the US. The Rand Corporation puts the numbers of veterans living with brain injury at more than 420,000, with some estimates nearing 800,000.
The consensus in civilian and military medicine is that any protocol to heal the brain must include multiple, integrated therapies including medical intervention to reduce the effects of brain swelling and inflammation, nutritional support, physical therapy, psychological/behavioral and cognitive therapy; other alternative therapies such as meditation, yoga, and acupuncture can be considered. Dr. Joseph Maroon, a noted neurosurgeon and medical advisor to professional football, has written that, "Substantial animal and human research now suggests that...natural dietary supplements, vitamins and minerals, and the use of hyperbaric oxygen may be a better first-line choice for the treatment of [concussion] which has generally been underreported by both athletes and the military." Unfortunately, military medicine and the Veterans Administration rely heavily on the use of combinations of unproven and potentially suicidal psychoactive and other drugs.
According to Dr. George Mychaskiw II, former editor-in-chief of The Journal of Hyperbaric Medicine, "Hyperbaric oxygen is a safe, easily used treatment that, in many cases, has resulted in a dramatic improvement in the symptoms of patients with [TBI/Concussion]. Every day we are…gathering more data validating its efficacy...I feel, as do many of my colleagues, that there is sufficient clinical and research evidence to justify the use of [HBOT] as a standard-of-care treatment for [TBI]..."
The medical establishment has been slow to adopt proven alternative therapies to treat injured brains. Conventional passive and palliative care approaches costing billions, including drugs and unproven, often negative interventions, aim to treat symptoms, not underlying physiological and neurological damage. Beckman summarizes, "While they wait, they and their families suffer, and underlying damage goes untreated."
###
More information is available at http://www.treatnow.org and by viewing the videos:
Joe Namath: http://tinyurl.com/kflu9up
Maj. Ben Richards: http://tinyurl.com/ologhrl
Joe Delamielleure (Hall of Fame): http://tinyurl.com/m5q8ued