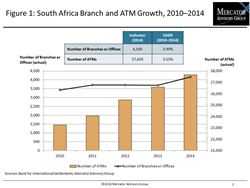 Boston, MA (PRWEB) February 01, 2016
Though considerably smaller in population (53.6 million in 2015) than other emerging economies in either the top tier markets (Brazil, Russia, India, and China, or BRIC) or second tier markets (Mexico, Indonesia, Nigeria, and Turkey, or MINT) with which it is often grouped, South Africa has arguably the strongest foundation for electronic payments of all these countries. In part this is because of its mature and stable banking ecosystem resulting from the country's legacy with the United Kingdom.
According to Mercator Advisory Group's latest research note, Country Payments Market Profile: South Africa, the foundation is in place for a larger electronic payments market in South Africa, thanks to the relatively mature and stable retail banking landscape, and there is room for growth. This research note provides a high-level examination of key banking and payment indicators such as the number of bank branches and ATMs and the number and value of payment card transactions. Data is presented for 2014 and growth in the preceding five-year period and a SWOT analysis is provided of the market's strengths, weaknesses, opportunities, and threats to evaluate its attractiveness from the perspective of the payments industry.
Highlights of the note include:

Overview of evolving retail banking industry in South Africa with statistics on branch and ATM growth over the past five years
Statistics on the evolving consumer payment mix in South Africa and commentary on the changing dynamics
Insight into the payment acceptance landscape domestically and discussion on emerging payment trends like e-commerce and mobile payments
This report contains 11 pages and 5 exhibits.
Companies mentioned in this report include: Absa, First National Bank, Capitec, MasterCard, Nedbank, Standard Bank, Tencent, and Visa.
Members of Mercator Advisory Group's Global Payments Advisory Service have access to these reports as well as the upcoming research for the year ahead, presentations, analyst access, and other membership benefits.
For more information and media inquiries, please call Mercator Advisory Group's main line: (781) 419-1700, send email to media@mercatoradvisorygroup.com.
For free industry news, opinions, research, company information and more visit us at http://www.PaymentsJournal.com.
Follow us on Twitter @ http://twitter.com/MercatorAdvisor.
About Mercator Advisory Group
Mercator Advisory Group is the leading independent research and advisory services firm exclusively focused on the payments and banking industries. We deliver pragmatic and timely research and advice designed to help our clients uncover the most lucrative opportunities to maximize revenue growth and contain costs. Our clients range from the world's largest payment issuers, acquirers, processors, merchants and associations to leading technology providers and investors. Mercator Advisory Group is also the publisher of the online payments and banking news and information portal PaymentsJournal.com.