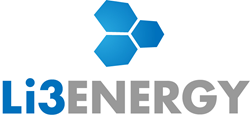 Santiago, Chile (PRWEB) February 01, 2016
Li3 Energy, Inc., (OTCQB: LIEG –News) ("Li3", "Li3 Energy" or the "Company"), a US-listed and South America based global exploration company in the lithium and minerals sector which holds an interest in the Maricunga lithium project in Northern Chile, is pleased to announce it has executed a non-binding Letter of Intent ("LOI") with TSX.V listed Wealth Minerals Ltd ("Wealth") for a transaction between the companies under the following terms

Wealth will undertake an equity financing of CAD$3mm.
Post-financing, Wealth and Li3 shareholders will each hold 50% of the new company.
The use of proceeds of the financing will be to advance Li3's Maricunga lithium project in Chile and pursue other corporate initiatives.
The new company will have seven Board seats, with Wealth holding four and Li3 holding the remaining three seats. The management of Wealth will largely remain intact and Li3's current management team will support the new company as necessary, given its in-depth lithium industry expertise.
Wealth will have a 60-day exclusivity period to complete its due diligence and financing.
Patrick Cussen, Chairman of the Board of Li3 commented: "We are delighted to enter into this transaction with Wealth Minerals. Given the recent Chilean government announcements, we are confident that 2016 will be very positive for the lithium industry in Chile. Wealth Minerals provides an opportunity to have a listing in a mining-friendly exchange and their management and Board provides Li3 with great comfort given their track record and capital markets experience. Li3's Board members and management will continue their involvement in the company and the lithium strategy going forward."
About Li3 Energy, Inc.
Li3 Energy, Inc. is an exploration stage public company in the lithium mining and energy sector. Li3 aims to acquire, develop and commercialize a significant portfolio of lithium brine deposits in the Americas. With its interest in the Maricunga Project, coupled with the completion of the NI 43–101 Compliant Measured Resource Report and the Cocina acquisition, Li3's goals are to: a) advance Maricunga to the Feasibility Stage; b) support the global implementation of clean and green energy initiatives; c) meet growing lithium market demand; and d) become a mid-tier, low cost supplier of lithium, potassium nitrate, iodine and other strategic minerals, serving global clients in the energy, fertilizer and specialty chemical industries. Additional information regarding the Company can be found in our recent filings with the Securities and Exchange Commission ("SEC") as well as the information maintained on our website http://www.li3energy.com.
Cautionary Note Regarding Forward-Looking Statements
Any statements contained herein which are not statements of historical fact may be deemed to be forward-looking statements, including, without limitation, statements identified by or containing words like "believes," "expects," "anticipates," "intends," "estimates," "projects," "potential," "target," "goal," "plans," "objective," "should", or similar expressions. The Company gives no assurances the assumptions upon which such forward-looking statements are based will prove correct. Forward-looking statements involve risks, uncertainties and assumptions, and are based on information currently available to us. Actual results may differ materially from those expressed herein due to many factors, including, without limitation: obtaining the necessary funding for the company's on-going operations; validation of the POSCO technology; obtaining and the issuance of necessary government consents; confirmation of initial exploration results; the Company's ability to raise additional capital for exploration; development and commercialization of the Company's projects; future findings and economic assessment reports; the Company's ability to identify appropriate corporate acquisition or joint venture opportunities in the lithium mining sector and to establish appropriate technical and managerial infrastructure; political stability in countries in which we operate; and lithium prices. For further information about risks faced by the Company and its Maricunga project, see the "Risk Factors" section of the Company's Annual Report on Form 10-K, filed with the SEC on November 6, 2015. The Company undertakes no obligation to update any forward-looking statement contained herein to reflect events or circumstances which arise after the date of this release, except as required by law.
Contact:
Luis Saenz
Chief Executive Officer
luis.saenz(at)li3energy(dot)com