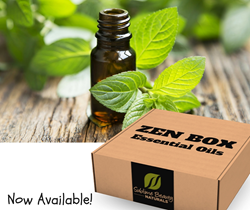 Essential Oils Are Powerful for Wellness, Balance and Natural Solutions. ZEN BOX Help Build up a Collection, Offers Instructions and What you Need.
St. Petersburg, FL (PRWEB) February 02, 2016
ZEN BOX is a new monthly subscription box with Essential Oils, now available for the first time.
"We believe strongly in the power and science of Essential Oils, and wanted to be able to deliver new product each month and help educate," says Kathy Heshelow, founder of ZEN BOX.
Each month, three essential oils (typically two single oils and one blend) are sent to subscribers. Profiles, instructions on how to use them and helpful information is sent by email. A bonus 4th product is included each quarter (January, April, July and October) along with other potential surprises.
The first 200 subscriber will get a special Zen Oil Box Folder to hold the special instructions each month.
Sign up before February 15th to receive the first box; ZEN BOX is sent between the 20th and 23rd. A 10% discount is available for the first purchase, found on the website.
Want more information on ZEN BOX before considering purchase? Visit http://www.zenbox-essentialoils.com
The motto of Sublime Beauty Naturals is MAKE HEALTHY CHOICES, RESPECT YOUR BODY, LOVE NATURE - and essential oils fits this motto perfectly, says Heshelow.