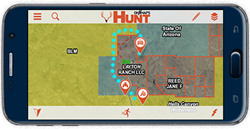 The App unlocks hundreds of layers of map data that make scouting and execution in the field much easier. I have found that certain combinations of map layers can help me identify hidden access points. , Eric Siegfried, onXmaps President & Founder
Missoula, MT (PRWEB) February 02, 2016
Available today on both the Google Play and [Apple] App Store, onXmaps offers a new and improved Hunting App that turns mobile phones or tablets into a dedicated GPS device. onX HUNT 3.0 unlocks the full GPS functionality of modern phones and integrates it with the best land ownership data and mapping tools available. This powerful combination allows hunters to always know their location relative to public and private land ownership boundaries, geographical features, custom waypoints, roads, and trails. For a full list of HUNT 3.0 features, visit http://www.huntinggpsmaps.com.
"onXmaps has quite simply been the biggest game changer in the last 5 years for me and my ability to hunt not only in Montana, but in completely new states and units. Show me a hunter with onXmaps in his hand and I'll show you a hunter soon to have success!" says Randy Newberg, the host of Fresh Tracks TV and the popular HuntTalk online community. Randy is a strong advocate for being responsible and educated in the field and is an avid user of both the HUNT App and the HUNT Chip for his Garmin GPS unit.
The onX HUNT App comes loaded with valuable map features for use in the field such as a triple-verified Private and Public Land Ownership layer with Owners' Names and Property Boundaries. Hunters immediately see the value in this data when dealing with property boundaries, finding new public lands, or even gaining permission to access private property. onXmaps' land ownership data has become the professional standard in the field. HUNT users include State and Federal Agencies, Game Wardens, and Conservation Officers who use maps daily for field work where location and land ownership accuracy cannot be left to chance.
New Features released in HUNT 3.0 include an Improved User Interface, Tracking and Compass, Weather Radar, National Forest Visitor Maps, and USA Trails.
The latest User Interface was designed to quickly and seamlessly navigate map features and menu items inside the App, access Saved Maps for offline use outside of cell service, change between several Basemap options, and even customize the map layers by turning layers on or off and setting transparency.
The addition of Tracking and Compass provides GPS-quality navigation tools within the HUNT App. This allows the user to track and display their hike or adventure right on the map screen. You can also load a previously saved track to easily follow your way to a lookout or stand in the dark. The new built in compass allows users to get bearings on landmarks for navigation and orientation when in the field.
Weather Radar gives users the ability to see real-time location of storms and precipitation in the area; allowing for more detailed planning and decision-making in the field. The USA Trails layer can be overlaid on any of the numerous Basemaps included with the HUNT App to give a detailed view of how the terrain and trails are positioned.
If full-speed cell coverage is a concern in the hunting area, simply save the Map Layers and Basemap to the phone or tablet before going afield. The intuitive Save Map function allows the user to maintain full functionality and map data within the HUNT App wherever the adventure takes them.
Unlike other Hunting Apps, the onX HUNT App allows users to completely customize maps for their specific needs. Whether hunting or scouting, users can customize the HUNT App to #HUNTsmarter.
"HUNT 3.0 brings to life a new era of hunting maps. The App unlocks hundreds of layers of map data that make scouting and execution in the field much easier. I have found that certain combinations of map layers can help me identify hidden access points, key habitat for wildlife, and much more. I'm a firm believer that if you do the research and know your maps, you can drastically increase your chances of success!" says Eric Siegfried, onXmaps President & Founder.
With detailed maps for all 50 states, the HUNT App provides a powerful, portable, and cost effective mapping tool for any hunter in any state. Visit the App Store today to download the HUNT App by onXmaps and start a free 7-day trial.