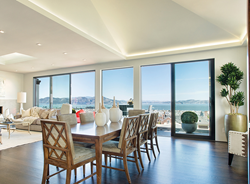 "LED lighting evolves like any other solid state product and Alloy LED evolves with it." - CEO Max Darling
Emeryville, CA (PRWEB) February 02, 2016
Alloy LED is a new manufacturer and distributor of superior LED lighting solutions that enhance the way people live and work. Alloy offers ultra high quality products through wholesale and commercial sales channels. Its product lines include linear LED lighting with an industry-leading 95 CRI (Color Rendering Index) and extremely high R9 ratings that provide the highest quality light output. Alloy LED also carries a wide range of aluminum channels for installing and diffusing linear lighting, efficient low voltage power supplies, and warranties of up to 6 years.
Alloy LED's executive team is made up of Max Darling, Joe Flynn, and Alan B. Rose, who together have decades of experience in the LED lighting industry. CEO Max Darling started his career in the LED lighting business when he co-founded Elemental LED and Diode LED in 2008, and looks forward to serving customers with an agile company focused on high quality, affordable prices and amazing customer service.
Max Darling sums up Alloy LED in this way: "Our goal is to improve the way people live by providing the highest quality lighting at the best price. LED lighting evolves like any other solid-state product such as cell phones and televisions, with performance increasing and costs decreasing, and we evolve with it. Alloy has been built from the ground up to bring this evolution to customers who are looking for better products at more affordable prices."
President Joe Flynn is trained as an electrical engineer who has held senior product management and marketing positions in a number of high-tech companies in the San Francisco Bay Area. Joe has a proven track record of bringing innovative products to market, and enjoys talking with customers to understand their needs. Vice President of Sales Alan B. Rose has nearly three decades of experience in building an extensive national sales network.
Alloy LED's main product line consists of single color PrimaLine™ LED tape light, Radialux™ RGB/RGB-W LED tape light, Continua™ aluminum channels, color controllers, and the ThruLine™ direct wire under cabinet LED Fixture. The PrimaLine series offers a combination of high CRI, R9, and R13 values, providing the best lighting quality available on the market. Alloy LED backs its tape light products with a 6-year warranty, one of the longest available for comparable LED strip lights. The Continua series of aluminum channels for LED lights includes 5 different application types for in-wall, in-ground, suspended, surface-mount, and recessed LED lighting. The PrimaVolt™ series of dimmable LED drivers provides efficient low voltage power to Alloy's dimmable LED lights, with smooth, buzz-free dimming when used with compatible 120V dimmers. A selection of accessories rounds out the portfolio, allowing customers to create complete LED solutions.
About: Alloy LED is a manufacturer and distributor of superior LED lighting solutions that enhance the way people live and work. They offer products through wholesale and commercials sales channels.