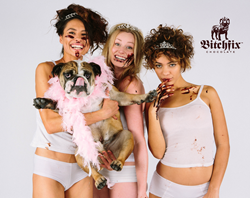 Eat chocolate. Soothe bitchiness. Save dogs.
Malibu, California (PRWEB) February 03, 2016
Everyone knows chocolate and dogs don't mix, unless of course the combination can actually save lives. Launching just in time for Valentine's Day, Bitchfix Chocolate ships handmade confections to the hormonally challenged during that time of the month, while designating 10% of all proceeds to spay and neuter programs helping to stem the needless euthanization of 2.5 million shelter dogs each year.
To ensure chocolate is at hand when the craving calls, bitches of all stripes are encouraged to sign-up for monthly Bitchfix subscription pack, designed to soothe the savage bitch and quell hormonal mood swings associated with PMS. For the commitment phobic, Bitchfix offers a selection of bitchtastic individual products including the Bitch Box, an assortment of 12 delectable truffles, bonbons and single origin chocolates, with flavors including Crampin' Crunch, Rocky Bloat and Bitch in Heat; Bitch Balls, a pair of decadent, dark chocolate passion fruit orbs in their own glistening sack; and the ultimate Queen Bitch Starter Kit, a lavish bounty of chocolate complete with a reusable canvas tote and rhinestone tiara for the royal bitch in everyone's life, gender notwithstanding.
According to Chief Executive Bitch, Colette Brooks, "Studies show that consuming chocolate increases serotonin activity in the brain. It's no surprise that this 'mood food' works like a charm to elevate spirits and tame the monthly medusa. And, because I love chocolate almost as much as I love dogs, I started Bitchfix to benefit both. In fact, next up is our Menopaws collection, for which I will be first in line."
Adds Marina Muhlfriedel, Chief Operating Bitch, "Bitchfix connects consumers to chocolate in ways they've never experienced before. We're all about celebrating our bitchy birthright and animal welfare in one delicious lifestyle package. We bring out the best in bitchiness."
Bitchfix is exclusively available in California with plans to ship nationwide October 2016.
http://www.bitchfix.com