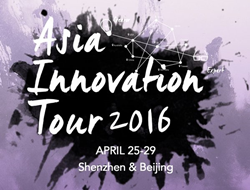 HWTrek has been instrumental in connecting Blocks to leading manufacturing companies in Asia. Altogether it has undoubtedly accelerated our delivery time by at least 4 to 6 months. - Serge Didenko, Co-founder of Blocks Wearables.
Shenzhen, China (PRWEB) February 03, 2016
HWTrek (Hardware Trek), the global open innovation platform for hardware creation, is now accepting applications for its HWTrek Asia Innovation Tour 2016, taking place April 25-29 in Shenzhen and Beijing, China with an optional extension to Taiwan, May 2-3. The tour offers hardware creators and small-medium businesses (SMB) organizations across the globe an opportunity to become better acquainted with the ecosystem of manufacturers and suppliers in Asia, including those that build products for technology leaders such as Apple, Sony, DJI, and Nest.
Let's get together for a journey to the intersection of innovation and technology. On this trek, industry Expert partners from the manufacturing, supply chain, and retail sectors will share their experience, technology, and knowledge with hardware startups and creators. Participants on the tour will have the opportunity to:

Explore the heart of manufacturing: Shenzhen; and the capital of one of the world's largest consumer electronic markets: Beijing
Meet 600+ industry Experts and demo their project in a meetup;
Get first hand insights from tier one supply chain Experts: get access to the latest manufacturing technology, processes, and assembly-line walkthroughs to understand how product quality consistency is achieved.
Gain insights on the China market from leading market research companies and consumer electronics ecommerce retailers in Beijing;
An optional extension trip to Taipei, the hometown of ODMs for world leading brands.
The thought-provoking discussions that sprout along the journey will help the participants plan for product development and beyond.
HWTrek will award 15 selected creators with airfare sponsorship, local transport between events and visits as well as customized supply chain matching service based on the stage and requirements of the project. Attendees will be given the opportunity to tour facilities and view the assembly lines of some of Asia's most prominent, billion-dollar manufacturers. In 2014 and 2015, HWTrek led two cohorts of startup participants in visits to YuandongDeli, Innovation Works, JD.com, Xiaomi, and Innoconn in Beijing and HONPE and Sunrex in Shenzhen.
To apply for HWTrek's Asia Innovation Tour 2016, register as a creator and create a hardware project on the HWTrek platform. Applicants must meet the following criteria for consideration:

The application process is open to hardware creators and startup organizations that can present a simple, working prototype of a wearable or Internet of Things hardware device; and
This working prototype must fall under one of the following categories: Wearables; Industrial Applications; Sports; Toys / Games; Cameras / Audio & Video; Family / Home Automation; Mobile Device Accessories; Auto; or Health and Science gadget.
Applicant is a founder or co-founder of the team.
Ensure the project created on the platform is complete including: project description, photograph, and resource requirements (from design and prototyping to manufacturing and retail services).
The deadline for the application is March 31, 2016. More information about the tour is available at https://www.hwtrek.com/events/asia_innovation_tour_2016-q1.
HWTrek is committed to supporting inventors and small-medium enterprises (SME) at all stages of project development to assist them to connect with the resources they need to design, build, and bring their hardware innovations to market. Asia Innovation Tour is specially designed for hardware creators who are ready for pilot production runs to prepare for mass production, or outsourcing a side line of products as an expression of the power of seamless online-to-offline collaboration that is rewiring the making of smart things at the center of manufacturing, Shenzhen.
HWTrek's cloud-based platform is the first global, complete end-to-end hardware development ecosystem—a one-stop shop—for IoT hardware innovators working to manage their product development, connect with manufacturing and supply chain industry experts, and bring their connected device projects to market. HWTrek now connects more than 5,000 hardware creators and startups that have created 1,370 projects on the platform to 900 trusted manufacturing and supply chain industry experts from Taiwan and Shenzhen to rest of the world—from tier 1 ODMs to small, skilled design houses—who have developed unique programs to assist the creators in pilot production. More than 2,500 inquiries have been successfully bridged with manufacturers and other experts.
Supporting quotes from past participants

"HWTrek has been instrumental in connecting Blocks to leading manufacturing companies in Asia, superior to any other organizations that offer similar services," said Serge Didenko, Co-founder of Blocks Wearables (London). "Not only that, they were also incredibly helpful in developing a detailed manufacturing plan with our team. Altogether it has undoubtedly accelerated our delivery time by at least 4 to 6 months."
"For us at H+, it was fantastic to come across all kinds of resources from VCs to manufacturers and even entering the Asian market," said Dhruv Adhia, CTO of H+ Technology, developer of Holus – the world's first interactive holographic platform and app ecosystem. "These are all mighty tasks and with the help of HWTrek, I feel very confident that it will immensely benefit us."
"It has been an amazing experience – visiting some of the biggest manufacturers, meeting investors, and getting insights into the uprising Asian market," said Felix Kochbeck, CEO and Co-founder of Luuv, maker of mechanical and electronic camera stabilizers. "All of that, together, in a group with other hardware startup founders is priceless. Great connections were made."
Supporting resources: http://blog.hwtrek.com/?p=6928.
Tweet this: HWTrek to Host Asia Tour for Hardware Innovators of Internet of Things, Wearable Devices: https://www.hwtrek.com/events/asia_innovation_tour_2016-q1. #HWasiatour
About HWTrek (Hardware Trek)
HWTrek is a unique ecosystem where hardware Creators and industry Experts meet and create smart hardware for the future, based in Taiwan and Shenzhen. HWTrek simplifies the hardware creation process by providing online planning and team collaboration tools and direct access to quality manufacturers and industry experts. Learn more about HWTrek: http://www.hwtrek.com or follow @HWTrek.
Contact:
William Andrew Albano, HWTrek
Tel: +886-2-2769-1698 | +886-2-2742-3301
Email: william.albano(at)hwtrek(dot)com
Skype: william.andrew.albano
Sponsorship opportunities contact:
Cindy Chen, HWTrek
Tel: +86-186-1041-6312
Email.com: cindy.chen(at)hwtrek(dot)com
Wechat: +86.186.1041.6312