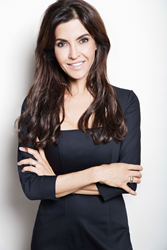 Los Angeles, California (PRWEB) February 03, 2016
Caroline MacDonald, Chief Marketing Officer of Auberge Resorts Collection, has been recognized a Los Angeles Woman of Influence by American City Business Journals and Bizwomen. MacDonald, along with leaders in tech, entertainment, business and finance, was honored at the second annual Women of Influence Awards luncheon held on Thursday, January 28, 2016.
Recognized not only for a demonstrated track record of success in her professional career, but also for her role in mentoring those around her, MacDonald was celebrated for supporting the next generation of women in business.
The Women of Influence program is part of a national effort by American City Business Journals — the premier company in the country devoted to the reporting of local business news, and parent of Bizwomen — to identify and celebrate women business leaders and to foster business environments that will create even more successful women in the future.
MacDonald has led the branding and sales operations for Auberge Resorts Collection, one of the premiere luxury hotel brands in the industry, for the past 15 years. She created the visual identity and marketing strategy for the Auberge brand and recently launched Auberge's new VIEVAGE brand. In August 2015, Travel + Leisure readers voted Auberge the #7 hotel brand in the world.
MacDonald also serves on the board of Chrysalis, a Los Angeles non-profit organization dedicated to creating a pathway to self-sufficiency for homeless and low-income individuals by providing the resources and support needed to find and retain employment. Additionally, she participates in Share A Meal, a non-profit that makes and provides meals to the homeless of downtown Los Angeles. On the job, she spearheads an ongoing intern program providing mentoring for young women and experience in marketing, branding and public relations. MacDonald holds an MBA from Pepperdine University, Graziadio School of Business in Malibu, California.
About Auberge Resorts Collection
Auberge Resorts Collection owns and operates a portfolio of exceptional hotels, resorts, residences and private clubs under two distinct brands: Auberge Hotels and Resorts, timeless luxury properties acclaimed for their intimate, understated elegance, and VieVage Hotels and Resorts, a new lifestyle brand that brings together contemporary themes of design, community and wellness in a fresh, active and social environment. While Auberge nurtures the individuality of each property, all share a crafted approach to luxury that is expressed through captivating design, exceptional cuisine and spas, and gracious yet unobtrusive service. Properties in the Auberge Resorts Collection include: Auberge du Soleil and Calistoga Ranch, Napa Valley, Calif.; Esperanza, Cabo San Lucas, Mexico; Hotel Jerome, Aspen, Colo.; Malliouhana, Anguilla; Nanuku Auberge Resort Fiji, Fiji; The Auberge Residences at Element 52, Telluride, Colo.; Pronghorn Resort, Bend, Ore.; VieVage Napa Valley, Calif; and Auberge Beach Residences and Spa, Fort Lauderdale, Florida; with several others in development. For more information about Auberge Resorts Collection, please visit http://www.aubergeresorts.com/. Follow Auberge Resorts Collection on Facebook at facebook.com/AubergeResorts and on Twitter at @AubergeResorts.