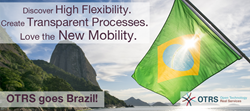 Our ticket system is already used by many businesses in Brazil and is well-known. I'm positive that all these OTRS users will be very happy to get to know the company that created OTRS and supports their implementation or system development needs.
Sao Paulo, Brazil (PRWEB UK) 2 February 2016
OTRS Group, the world's leading provider of open-source ticket system and cloud-based service management software solutions, is announcing today the first OTRS ticket system training course taking place in Brazil. After founding a new subsidiary in Sao Paulo in the beginning of 2016, the open source ticket system software provider intends to introduce participants to the extensive functionalities of the OTRS ticket system and how they can increase their service desk efficiency by using it.
The training course will take place from March 2-3, 2016 in Sao Paulo. Users of the free-to- download ticket system OTRS and interested participants get a deeper insight into:

OTRS' functionalities and features
the OTRS Admin Interface
the OTRS Sysconfig
the OTRS Process Management features
The training course costs only US $199.
Christopher Kuhn, COO of OTRS Group, explains why he expects many participants for the first ticket system training: "For four years Brazil has continuously ranked as the fifth country in the world in OTRS downloads. That means our ticket system is already used by many businesses in Brazil and is well-known. I'm positive that all these OTRS users will be very happy to get to know the company that created OTRS and supports their implementation or system development needs. Of course, we are also very excited to meet them and celebrate our new subsidiary."
Find more information about the first ticket system training course of OTRS Group in Brazil here: https://www.otrs.com/otrs-goes-brazil-opening-event-in-new-subisidiary-in-march/
About OTRS Group
OTRS Group is the vendor and world's leading provider of the open-source OTRS Service Management Suite, including the on premise and cloud-based versions of the OTRS Business Solution™, as well as the OTRS Help Desk software and the ITIL® V3-compliant IT Service Management software OTRS::ITSM. With subsidiaries in the US, Hong Kong, Malaysia, Mexico and Brazil, OTRS Group offers managed services as well as training seminars, service support, consulting and software development to businesses that wish to increase the efficiency of their service management while saving costs and resources. Key customers include industry leaders such as NASA, IBM, Hewlett Packard, Lufthansa, Boeing, Porsche as well as 150,000 other organizations worldwide. OTRS is available in 35 languages, offers a fully responsive design to be used on every mobile device , and is used by 60 percent of the DAX 30 companies. Find out more about OTRS and our services at http://www.otrs.com
Contact:
OTRS Group
Josephine Günther
Norsk-Data-Straße 1
D-61352 Bad Homburg
Germany
Phone: +49 (0)6172 681988-26
Fax: +49 (0)9421 56818 18
Email: marketing(at)otrs(dot)com
Internet: http://www.otrs.com