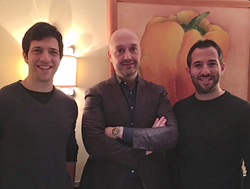 "Banza is resonating with pasta lovers across the country and is clearly a game changer" -Joe Bastianich
New York, NY (PRWEB) February 02, 2016
Last Wednesday, plates of Banza chickpea pasta were served in addition to classic wheat noodles at Restaurant Row's Italian institution Becco.
Becco owner and early Banza investor Joe Bastianich dined with the Banza team in a packed room of friends, family, supporters and restaurant-goers.
Executive Chef Billy Gallagher prepared a powered up version of Penne alla Pesto using Banza instead of traditional pasta, as a fun and healthy twist on their famous "Sinfonia di Paste" tasting menu.
Banza's place on the classic Italian menu is an indicator of the product's progress as it moves towards the food service world, continuing to upgrade traditional pasta in a variety of contexts.
"With national distribution rapidly on the rise, Banza is resonating with pasta lovers across the country and is clearly a game changer," said restaurateur Joe Bastianich.
"We're going to show the culinary world that Banza can stand side by side with regular pasta, and that delicious pasta can be extremely healthy," said Banza co-founder Brian Rudolph. "Today we proved that Banza Pasta is an ingredient suitable for a talented chef's Italian kitchen."
For more information please contact media(at)eatbanza(dot)com; (313) 899-7884.