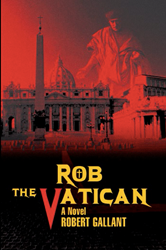 After I figured out how to rob the Vatican, I had to decide whether to actually rob the Vatican or write about it. Fortunately, I enjoy writing much better than robbing
Detroit, MI (PRWEB) February 02, 2016
Have you ever wondered what it would be like to be a part of one of the biggest robberies of all time? Everyone believes that robbing the vast treasures of the Vatican is impossible, so no one has ever considered how it could be done. For author Robert Gallant, robbing the Vatican became an irresistible challenge.
Over a five-year period, Gallant researched how an individual could pull off this crime. "ROB THE VATICAN" presents not only a credible and suspenseful story, but also provides unique insights into the Vatican and how it operates.
"After I figured out how to rob the Vatican, I had to decide whether to actually rob the Vatican or write about it. Fortunately, I enjoy writing much better than robbing," Gallant said.
'ROB THE VATICAN' focuses on American jewel thief Craig Reynolds, who has robbed jewelry establishments and wealthy chateaus all over Europe. When a young priest Thad Raphano discovers a Vatican conspiracy, it plunges Raphano and beautiful Italian gymnast Darlena Aldonzo into a whirlpool of danger and desperation. Reynolds methodically manipulates the players and maneuvers events to make the impossible possible. He will rob the Vatican, but is he willing to sacrifice the woman he now loves?
"My novel is driven by the attempt to rob the Vatican, but it is the people involved who make the story so special," Gallant said.
"ROB THE VATICAN" not only addresses a creative robbery, but it also allows the reader to get both an exciting thriller and insight on a unique geographic area and culture.
"ROB THE VATICAN"
By: Robert Gallant
ISBN: 978-0-595-43924-9
Available in softcover, hardcover, e-book
Available on Amazon, Barnes & Noble and iUniverse
About the author
Robert W. Gallant is a retired technology businessman from Dow Chemical Company. During his career, he authored over 50 articles in scientific journals, wrote three books on technology, and one book on how to become a successful manager. Gallant enjoys living a healthy lifestyle at the age of 80. He has been featured in his community as an example of what a healthy lifestyle looks like and regularly exercises. Gallant resides in Michigan and enjoys writing, reading, and spending time with his three sons and their families.
For review copies or interview requests, contact:
Katie Wenclewicz
317.602.7137
kwenclewicz(at)bohlsengroup(dot)com