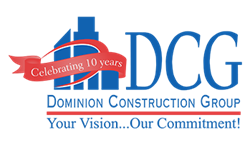 "We have a responsibility not only to ourselves but to all of our clients and our community to help them grow and prosper as much as we do
Warrenton, VA (PRWEB) February 04, 2016
Dominion Construction Group, LLC (DCG) recently celebrated it's 10th year anniversary in business. Based in Warrenton, Virginia, DCG is a commercial general contractor that has provided a wide range of construction services to clients throughout Virginia, Maryland and Washington, DC. In addition to budgeting and design/build services, DCG specializes in value engineering and expert client service throughout the duration of each building project.
Since its founding in November of 2005, DCG has experienced tremendous growth by building valuable relationships with owners, architects, subcontractors, and members of their community. Led by President Phil Clark, who has 35 years of experience in the construction industry, DCG has built a reputation throughout the region as a company that truly values honesty and quality.
Mr. Clark commented, "We have a responsibility not only to ourselves but to all of our clients and our community to help them grow and prosper as much as we do, and truly believe that is why we have such a high rate of repeat business and clients who have been recommended from previous clients. We guide and help our project owners not only through the construction phase, but we are with them in the beginning when it's just an idea and at the end when we are visiting them for their grand opening!"
As the exclusive Virginia builder partner for Building God's Way, a national church architect that provides a network of kingdom building services, DCG also has a unique understanding of faith-based projects and a heart for ministry growth. DCG is committed to applying Christian principles of stewardship, relationships, and outreach on each ministry project and helping congregations be the best possible stewards of their God-given resources.
After 10 successful years in business, the future is bright for DCG and the Building God's Way program in Virginia. Currently, DCG and Building God's Way are working with The Bridge Community Church in Warrenton, VA on their new 20,000 SF church facility with an expected start date in early March 2016. To view a portfolio of the many other churches and ministry-related projects completed by DCG, visit their web site at http://www.dcgcontractor.com/religious/.
For more information, contact Anne Clark at Dominion Construction Group at 540- 428-3612 ext. 115 or anneclark(at)dcgcontractor(dot)com.