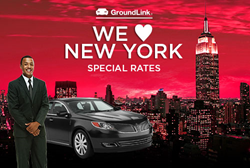 New York remains one of the costliest cities for black cars. We want to show our love to our loyal New York customers and introduce local residents and travelers visiting our city to GroundLink with a special price break. -- Liz Carisone, CEO
New York, NY (PRWEB) February 03, 2016
GroundLink, the New York-based, black car service for discerning travelers, has extended the Valentine's Day holiday for the entire month of February with special rates for New York residents and those visiting the city. Whether needing a ride to or from a meeting, a night on the town or for an airport trip, GroundLink offers a reliable, safe and comfortable car service ride with a professional driver.
Special We Love New York, all-inclusive (including taxes and tip) flat rates for pick-up and drop-off anywhere in Manhattan are $29 per ride for a sedan vehicle and $69 per ride for an SUV. This special rate is on average 20% off regular GroundLink pricing.
We Love New York base rates (tip, tax, tolls are additional) for rides to/from New York's three airports (LaGuardia/LGA, JFK and Newark/EWR) and to/from Manhattan during the month of February are as follows:
LGA
Economy Sedan: $40
Luxury Sedan: $45
SUV: $75
JFK
Economy Sedan: $49
Luxury Sedan: $59
SUV: $90
EWR
Economy Sedan: $49
Luxury Sedan: $59
SUV: $90
"New York remains one of the costliest cities for black cars. We want to show our love to our loyal New York customers and introduce local residents and travelers visiting our city to the GroundLink Experience with a special price break on our sedan and SUV vehicles for both our scheduled and Ride Now® services during the month of February," said Liz Carisone, CEO of GroundLink.
GroundLink offers bookings through their mobile app available in the App Store and Google Play, through their website GroundLink.com as well as through their 24/7 Customer Service Center. With GroundLink's mobile app, travelers can schedule rides in advance and in New York, travelers can also book on-demand rides using the app's Ride Now® feature. For full price transparency, customers are able to see the full price breakdown of their trip in advance of booking their ride. Customers can also track their car in real-time and communicate directly with their driver. For all airport pick-ups, GroundLink tracks the customer's flight and automatically adjusts the pickup time based on the flight's actual arrival. Once the ride is complete, customers receive e-receipts which can now be sent directly to a customer's Concur account for easy expense reporting.
About GroundLink
GroundLink is the reliable and safe black car service provider for discerning travelers. Available in major cities throughout the world and offering the industry's only on-time guarantee, GroundLink focuses on duty of care, with professional drivers who are screened, properly licensed and fully insured. GroundLink offers a multiple booking platform for its consumer and corporate clients that includes its website (http://www.groundlink.com), its iPhone or Android app, and its 24/7 Customer Service Center (855.463.7150). GroundLink has offices in North America and Europe, with its headquarters in New York, NY. Connect with GroundLink on Twitter @GroundLink and on Facebook.com/GroundLink.