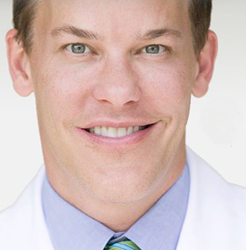 I knew from the beginning of my work with Kybella® that the injectable would be an effective, successful, and popular double-chin treatment.
Los Angeles, California (PRWEB) February 03, 2016
For the last eight months, Dr. Derek Jones has been helping three particular patients to lose their double chins. Using the FDA-approved submental fat treatment known as Kybella®, the Beverly Hills dermatologist was preparing each model for the Jan. 15, 2016, filming of a segment for the popular TV show The Doctors.
The episode featuring the results aired on Feb. 1.
As the lead investigator for the clinical studies that preceded the FDA's approval of Kybella® to reduce the appearance of double chins, dermatologist Dr. Derek Jones is one of the world's most knowledgeable experts on the injectable and its application. Because of his history with the product, he has used Kybella® more than any other doctor in the United States to treat patients' submental fullness, which is the technical name for fat that accumulates and produces a "double chin" effect.
Citing a possible link to aging and genetics, Dr. Derek Jones noted that the condition can persist despite changes to diet and exercise routines, which makes Kybella® a treatment of choice for people looking to get rid of the stubborn fat without having to turn to a surgical option, such as liposuction.
Kybella® is injected into the under-chin area, where it works by physically destroying the targeted fat cells, releasing the unwanted fat to be naturally processed and eliminated by the body. Its active ingredient is deoxycholic acid, a naturally occurring chemical that helps break down dietary fat for absorption. Once the fat cells are eliminated, they cannot return, so there is no expectation of patients seeking out repeat treatments. That said, multiple Kybella® treatments, up to six, may be necessary for patients to achieve their desired appearance.
Each Kybella® treatment session lasts about 20 minutes, and can involve up to 50 injections. Sessions should be spaced at least a month apart. This explains why Dr. Derek Jones began treating the patients to be featured on The Doctors eight months ago, just after the product's approval. Each patient received three to four treatments.
The U.S. FDA approved Kybella® on April 29, 2015, and it was released for general use on June 19. The trial involved more than 1,600 patients spanning more than 20 clinical studies. The injectable is not approved for use on fat found anywhere else on the body.
To learn more about Kybella® in Beverly Hills and the Los Angeles area, visit Skin Care & Laser Physicians of Beverly Hills at 9201 W. Sunset Blvd, suite 602, Los Angeles, or call 310-246-0495.