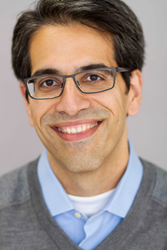 "We will continue to focus on bringing the best in digital learning technology and accessibility to the learning community." - Pep Carrera, COO, VitalSource
Nashville, TN (PRWEB) February 04, 2016
Ingram Content Group has named Pep Carrera as Chief Operating Officer of VitalSource Technologies Inc., Ingram's leading educational platform company. Carrera will transition into this role from his current position as Chief Information Officer at Ingram. Kent Freeman, currently VitalSource's COO, will move into a newly created strategic position at Ingram Content Group as Chief Strategy and Development Officer.
"With VitalSource unquestionably one of the largest learning platforms, we feel it's the right time to deepen our focus on accelerating learning outcomes and lowering costs in education," said Shawn Morin, President and COO, Ingram Content Group. "With that expansion, Pep's backgrounds in product management and engineering combined with his leadership style and innate curiosity are the right mix to lead this fast growing part of Ingram as it revolutionizes how learning outcomes are achieved around the globe."
As VitalSource's COO, Pep will be responsible for the vision and leadership of VitalSource, leveraging our success to date along with the talented team at VitalSource to enable our current and future partners to successfully deliver solutions and outcomes to students and lifelong learners. He joined Ingram Content Group as CIO in 2012, leading Ingram's technology and digital platforms that serve publishers, libraries, booksellers and educators worldwide. He will relocate to Raleigh, NC where he will lead the teams based in VitalSource's offices in Raleigh, Boston and the United Kingdom.
"The world of digital learning is one full of opportunity, and together with the VitalSource team, I'm looking forward to experimenting, growing and creating faster and more relevant digital solutions that drive outcomes that matter to our customers," said Pep Carrera. "We will continue to focus on bringing the best in digital learning technology and accessibility to the learning community."
Kent Freeman will serve Ingram Content Group in a newly created role as Chief Strategy and Development Officer, where he will be supporting Ingram's continued transformation and leading the delivery, management and incubation of Ingram's future successful strategic partnerships and products. Kent has been with Ingram Content Group for 33 years in a variety of leadership roles and has led VitalSource since 2009.
"Kent has done a tremendous job in leading VitalSource to become one of the most relevant and meaningful education technology companies to date, and we are excited to have him move to this new role for Ingram Content Group," said Shawn Morin.
"I have enjoyed leading the amazing VitalSource team, one that is passionate about expanding opportunities in education through digital learning technology and working with our clients who are transforming education," said Kent Freeman. "Pep and I have worked closely together and I look forward to seeing him lead VitalSource to continue to improve education, in partnership with institutions, publishers, educators, corporations, and learners."
About VitalSource
VitalSource Technologies Inc. is a leading educational technology company and the preferred choice among higher education institutions, faculty and publishers. VitalSource has delivered compelling digital content to more than 8 million students in 200 countries and territories worldwide, and we have more than 500,000 titles available in distribution from more than 750 education publishers. For more information about VitalSource Technologies, visit http://www.vitalsource.com.
About Ingram
Ingram Content Group Inc. is a subsidiary of Nashville-based Ingram Industries Inc. The company got its start in 1964 as a textbook depository and has since grown and transformed into a comprehensive publishing industry services company that offers numerous solutions, including physical book distribution, print-on-demand and digital services. Committed to the success of its partners, Ingram works closely with publishers, retailers, libraries and schools around the world to provide them with the right products and services to help them succeed in the dynamic and increasingly complex world of content publishing. Ingram's operating units are Ingram Book Company, Lightning Source Inc., VitalSource Technologies Inc., Ingram Periodicals Inc., Ingram International Inc., Ingram Library Services Inc., Spring Arbor Distributors Inc., Ingram Publisher Services Inc., Tennessee Book Company LLC, and ICG Ventures Inc. Learn more about Ingram Content Group at http://www.ingramcontent.com.
Contact: Elizabeth Fielding 615-321-3110 / elizabeth(at)tsgnashville(dot)com
###