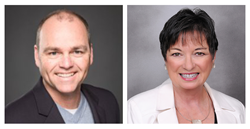 Jay and Terry are visionary leaders and have consistently worked to reimagine teaching and learning throughout their careers.
PORTLAND, Ore. (PRWEB) February 04, 2016
Alma Technologies, Inc., provider of the first holistic student engagement platform for K-12 schools, has appointed Jay Keuter as its Chief Innovation Officer and installed Dr. Therese "Terry" Crane to its Board of Directors. On the heels of its pioneering work with Google and year-over-year growth of its customer base, Alma expands its team to keep pace with demand.
"Jay and Terry are visionary leaders and have consistently worked to reimagine teaching and learning throughout their careers," said Alma CEO Andrew Herman. "Their insight and expertise in effective technology integration in schools is a welcome addition to Alma in a time of accelerating growth for our company."
With more than 30 years experience as an educator, business executive, and technology expert, Dr. Crane is widely recognized as one of the nation's most innovative leaders in educational technology. She joins Alma's Board of Directors to provide strategic guidance and help Alma continue to be at the forefront of educational change. During her illustrious career, Dr. Crane's expertise has been highly sought after, serving on the boards of numerous companies and education institutions. She is currently a NEA Foundation Scholar and a member of the board of directors for National American University Holdings, Western Governor's University, and The Curriki Foundation. She is also President and Founder of Crane Associates, where she provides consulting serves to education companies and organizations. Previously, Dr. Crane served in executive roles at E-Luminate Group, AOL, Compass Learning (formerly Jostens Learning) and Apple.
Keuter will be responsible for ensuring Alma is developing new technologies with an eye to the future of education and that its innovations drive success in school districts across the country. He has more than 20 years experience in the K-12 public sector, previously serving as the Chief Information Officer for Vancouver Public Schools and in various district technology leadership roles for Portland Public Schools. While at Portland Public Schools he was recognized for developing strong business relationships, delivering on strategic and tactical objectives, and leading innovative learning and technical initiatives. Keuter is passionate about transforming education and ensuring all learners are able to successfully use technology to achieve their potential and develop as global citizens. He has been a champion for personalized learning and mastery-based instructional methods supported by progressive technology systems, tools, and data.
"Alma is an innovative company that has the potential to drive meaningful change in schools around the world, regardless of their size and means," said Keuter. "I'm excited to support Alma in delivering a market-leading platform that empowers district and school leaders, educators, parents and students with a holistic view of the learning process and inspires greater academic success."
About Alma Technologies, Inc.
Alma is focused on improving student outcomes by enhancing workflow automation and data management in K-12 education. Its Holistic Student Engagement Platform unites a student information system and learning management system into an integrated, intuitive experience that empowers educators with a 360-degree view of the student learning process. The cloud-based software integrates multiple school and district functions into a single system that chronicles state reporting, curriculum management, lesson plans, grades, report cards, school calendars, inter-school messaging and notes, student data, parent communications, and assessments. At the same time, Alma enables districts to do more with less by simplifying their complex ecosystem of tech tools through consolidation while saving time and money. Alma provides a flexible, scalable solution that can work for any school and any budget. To learn more about Alma and its features, or to request a demo, visit http://www.GetAlma.com or contact @GetAlma.