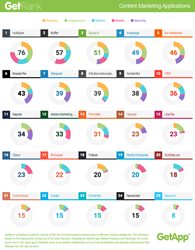 The ranking includes unique insights from data collected through GetApp's research program, GetData, as it relates to user perception of cloud-based business software.
(PRWEB) February 04, 2016
GetApp continues to update its expanding list of rankings for small and mid-sized businesses looking for the best cloud-based solutions for their company, this time with a newly updated ranking for content marketing.
The Q1 2016 ranking of the top content marketing solutions features HubSpot taking the top spot, followed by Buffer, Scoop.it, Instapage, and ion interactive rounding out the top five, respectively. Hubspot also took the top spot in the ranking of marketing automation software.
To calculate an app's place in GetRank, the ranking is based on five unique data points. The data points– media presence, security, mobile app availability, user reviews, and integrations– are each scored out of 20 for a possible maximum score of 100.
Buffer came in second with a 20 for its iOS and Android apps, while Scoop.it, Instapage, and ion interactive all posted scores of 15 or higher for their ample positive user reviews. High scores for security went to 6th place Knovio Pro, 7th place Oktopost, and 11th place Kapost, each with a security score of 15/20. It was Hubspot, however, who came in first thanks to high scores of 20 in both media and the ever important integrations.
"Content marketing doesn't operate in a funnel, and it's especially important that it integrates with software that includes marketing automation and social media functions in order to be able to fully maximize content marketing efforts," says Suzie Blaszkiewcz, researcher and project manager for GetRank.
To calculate GetRank scores, reviews are based on the average rating and number of reviews on GetApp, while integration scores are calculated using the number of integrations listed on GetApp. The mobile score is determined using the availability of iOS and Android apps, as well as its average rating in Google Play and the Apple App Store. The security data point is calculated from a vendor-completed security survey based on the Cloud Security Alliance's Self Assessment Form. Finally, the media presence score is calculated using the number of Twitter fans and Facebook followers that an app.
Click through to see the entire Q1 2016 ranking of the top 25 content marketing solutions. You can also check out our free report, Marketing in the Cloud, for insights and trends into the marketing industry, with expert commentary and contributions.
More about GetApp: GetApp, a Gartner company, is the leading premium business app discovery platform on the web. Headquartered in Barcelona (Spain), GetApp serves as a platform for user-generated and editorial reviews of software and apps for businesses.