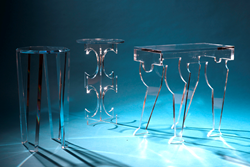 New York, NY (PRWEB) February 09, 2016
A new year brings fresh perspective and a long-awaited expansion of White Webb's Clearly Classic line of acrylic occasional tables. As the collection's name suggests, "classic" designs from the world's ancient cultures have always served as the starting point for Matthew White and Frank Webb's creations. To date, their line has included modern reinterpretations of Asian, European and Middle Eastern designs, but for their new pieces, the designers have found inspiration in Africa.
For the past decade, the designers have found themselves repeatedly drawn to Africa. Initially, an interest in travel brought them to the northern and southern reaches of the continent and sparked a desire to learn more about the fascinating things they had encountered. Then, Frank Webb, leveraging his foreign service background, joined the board of an Internet start-up, called Africa.com, for which he researches and shares the latest trends in African arts and culture. With Africa on their mind, the duo decided to bring their spin on African design to the marketplace.
Impressed by the awesome vastness and diversity of Africa, the designers wanted their new pieces to reflect this same broad range. Their glittering new creations – Cleo, Amara and Glacia – represent their first take on African design and lend a wonderful new dimension to the Clearly Classic collection.
Cleo
Like a graceful animal in motion, the Cleo table is inspired by ancient Egyptian designs, which often honored the sacred cat and other animals of distinction. Rendered in acrylic, it takes on a more modern, playful tone, somewhat reminiscent of the forms that John Dickinson created for his iconic plaster furniture from the 1970's.
Dimensions: Made of ¾" acrylic, the table measures 12"w x 24"d x 24"h.
Amara
Reminiscent of the sculptural chiefs' stools found in Nigeria, Cameroon and other parts of sub-Saharan Africa, the Amara table exudes the elegance and grace of its African namesake.
Thanks to its many curves, the table positively sparkles like a jewel, making for the perfect chair-side accessory.
Dimensions: Made of ½" acrylic, the table measures 14" diameter x 24"h.
Glacia
Cool, calm and collected, the Glacia table conveys the power and presence of the glittering icicles that inspired its design.
Accentuated by beveled edges, the table reflects and refracts light in a dazzling array, much like the sun on the icy peaks of Mt. Kilimanjaro.
Dimensions: Made of ¾" acrylic, the table measures 12" diameter x 24"h.
About White Webb
White Webb, LLC is an interior design firm with offices in New York City. The firm's principals, Matthew White and Frank Webb, bring a sense of history to every interior design project, but balance it with an appreciation for modern life. This blending of old and new is the hallmark of the White Webb sensibility. In addition to high-end residential interiors, the firm produces a popular furniture line - Clearly Classic by White Webb – which is a collection of acrylic occasional tables sold exclusively through Donghia. The firm also operates White Webb Finds, a lifestyle shop offering antiques and contemporary design items in Hillsdale, NY. For more information on White Webb, visit http://www.whitewebb.com. Follow White Webb on Facebook and Twitter (@whitewebb), on Pinterest (@whitewebbllc), and on Instagram (@whitewebbinteriors).
About Donghia
Donghia, Inc. produces furniture, textiles, lighting and accessories sold exclusively to interior designers and architects through Donghia's twelve showrooms across the United States and in over fifty representative showrooms around the world. With a forty year history at the forefront of the luxury home furnishings industry, Donghia represents American design at its best. http://www.donghia.com 1.800.DONGHIA