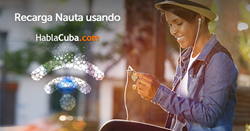 Nauta is the Internet provider in Cuba, offering Wi-Fi access in hotspots all over the country.
Atlanta, Georgia (PRWEB) February 05, 2016
HablaCuba.com has great news for everyone who has friends or family in Cuba! The international telecom website has just introduced a new service which enables people stay connected to their loved ones in Cuba. Now, customers all over the world can recharge Nauta Internet accounts in Cuba with HablaCuba.com: http://hablacuba.com/buy/nauta.
The process is very easy and fast. All customers need to do is enter the Nauta account they want to recharge (it has to be a permanent account such as user@nauta.co.cu or user@nauta.com.cu) and choose the amount they want to send.
They also have the option to let their loved ones in Cuba know that they've recharged their Nauta account by sending a free SMS. In order to do this, they should tick the Send SMS box, enter the mobile number of their relative in Cuba, and type in a message.
Nauta is the Internet provider in Cuba, offering Wi-Fi access in hotspots all over the country. Access to the Internet is a very important feature of the modern world and it is getting more and more accessible in Cuba these days. Nothing compares to the joy of staying connected to your family and friends in Cuba!
Besides Nauta recharges, HablaCuba.com also offers Voice Credit and Mobile Recharge. Voice Credit is an international calling and texting service, which can be used from any phone (through access numbers), computer (through the Web Call app), or smartphone (through the iOS or Android app called KeepCalling). The rate for calling Cuba is 69.9¢/min for both landlines and mobiles, while sending an SMS costs 7¢.
Mobile Recharge is a service through which customers can recharge phones anywhere in the world. The process is fast and secure and the credit reaches its destination instantly. With over 300 operators from more than 100 countries (including Cubacel in Cuba), HablaCuba.com can satisfy every need of international mobile recharge.
On review websites such as Trustpilot.com, customers point out the low rates and high quality offered by HablaCuba.com. One of them says 'Excellent! It's not the first time I use this service and each time I've been satisfied. The charges are fair and the ultimate customer receives the gift very fast.'
To find out more about HablaCuba.com's newest offers, customers are invited to follow their social media pages:

Facebook.com/HablaCuba
Plus.Google.com/+HablaCuba
About HablaCuba.com
HablaCuba.com is an interactive website designed by KeepCalling, a global telecommunications company registered in 2002 in USA. Presently, KeepCalling provides its services to hundreds of thousands of consumers and businesses, with a focus on customer satisfaction. KeepCalling has been listed by Inc 5000 as one of the fastest growing companies in the USA for 5 consecutive years. In 2015 the company registered a revenue increase of over 200% from 2011 to 2014.