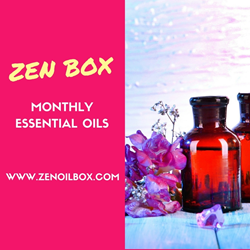 Essential Oils can be used for preventative wellness (such as keeping the immune system strong) as well as active uses (such as helping to reduce stress, or helping with insomnia.)
St. Petersburg, FL (PRWEB) February 04, 2016
Those new to Essential Oils as well as seasoned experts will enjoy ZEN BOX, a new monthly subscription box club.
ZEN BOX launched February 1st, and the deadline to sign up and receive the February box is February 15th by midnight. Boxes ship between the 20th and 23rd of February. Each box includes 3 Essential Oils, along with a bonus 4th item once per quarter.
What can Essential Oils do naturally for wellness? The question is almost what can't they do? They have been used for centuries, and are commonly used and accepted in traditional medical circles in Europe and elsewhere.
Essential Oils are extracted from plants, and most are anti-bacterial, anti-fungal, anti-viral and anti-inflammatory (among other qualities.) They are among the strongest metabolite agents (that is, ridding the body of toxins and fighting infections.)
They can help calm stress or anxiety, help with sleep or vitality, reduce inflammation or help wound-healing, keep the immune system strong, help improve memory, and much more.
ZEN BOX subscribers will learn about the products each month, how they can be used, and build a collection for wellness. Learn more about the ZEN BOX before purchasing, including safety tips here, on the content site.
Subscriptions are taken here at the popular Cratejoy platform, specializing in subscription boxes. Those who subscribe can manage their accounts, put a hold when traveling, easily update information and more.
"I put ZEN BOX together because the power of Essential Oils is real, and not very well-known in the U.S.," says Kathy Heshelow, founder, who lived in France for 16 years, where Essential Oil use is common. "I wanted to offer an easy way for people to work their way into Essential Oils, build a collection, get informed and make an impact on their wellness.. The box is also perfect for experts who want to extend their collection."
Heshelow, a member of NAHA, is finishing a book on Essential Oils, which highlights how these precious natural products can help with the "superbug" crisis; clinical research in many areas; and the differences of acceptance and history worldwide.