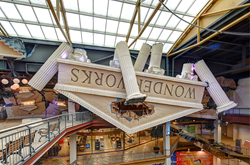 Syracuse, NY (PRWEB) February 03, 2016
The cold weather can't get anyone down this winter break with this family fun option, warm up inside WonderWorks during their Science Activity Week! From February 15th through 19th, WonderWorks will host five days' worth of STEM educational activities for guests to enjoy. The upside-down amusement park is located inside Destiny USA and is the perfect "stay-cation" outing to stay warm and have fun with the entire family.
Guests can purchase an individual ticket to each science event for $10.00 per day or purchase a VIP Combo ticket to enjoy the activity of the day for free in addition to all WonderWorks exhibits.
The schedule for winter break's Science Week will occur as follows:
Monday February 15th – Amazing Animal Day – Shannon Boronczyk from The Wild Animal Park in Chittenango will present and inform her audience about some of the park's favorite and most interesting wild animals. That's right real live animals will be present. Shows at 1:00pm and 2:30pm – 75 guests per show
Tuesday February 16th – Weather Day – Upstate New York Native and local Syracuse meteorologist Kate Thornton will give an exciting and interactive presentation explaining the science of weather and her career in meteorology. WonderWorks will also guide guests in creating two weather related crafts. Presentation at 1pm. Weather crafts at 11am and 3pm – 75 guests per presentation
Wednesday February 17th – Creativity and Imagination Day – Guests will be invited to participate in a friendly egg drop competition from the top of the Canyon Climb ropes course. The WonderWorks team will provide materials to construct a vessel for an egg to land safely and prizes will be given to successful egg droppers. Craft building and drops begin at 11am and 2pm – 50 participants per drop
Thursday February 18th – Space Day – Head to the Canyon in Destiny to enjoy a 30-minute show inside a giant traveling planetarium. Kerry Handron from the Carnegie Museum of Natural History will speak about the solar system and our galaxies. – Shows at 10am, 11am, 12pm, 1pm, 2pm and 3pm – 50 guests per show
Friday February 19th – Physical Fitness Day – Paul Napoli, owner of Five Star Martial Arts in North Syracuse, will provide guests with karate a demonstration that encourages kids in their focus, discipline and confidence. – Demonstrations at 11am and 1pm – 30 guests per demonstration
"We are proud to collaborate with local personalities and businesses who are a positive influence on our community for our Science Week events," said Ashley Doss, sales manager at WonderWorks Destiny. "Our team worked so hard to create a unique, entertaining, and educational event for each day. The scheduled shows in addition to what we already offer at WonderWorks make for a perfect indoor day during winter break."
Science Week tickets can be purchased in advance online. While no purchase is necessary for those who buy a WonderWorks VIP Combo ticket, reservations must be made for ALL Science Week activities and all spots are first come first serve.
To learn more about WonderWorks and the event, visit http://www.wonderworksdestiny.com/science-week
###
WonderWorks is an amusement park for the mind combining education and entertainment in over 100 hands-on exhibits that will spark the imagination and challenge the mind. Interactive, educational and fun for all ages, those visiting the attraction will enjoy a variety of experiences including being blown away by 84 mile per hour hurricane-force winds, maneuvering the controls of a NASA spacecraft to land the shuttle, lying on a bed of 3,500 nails, piloting a fighter jet, riding a 360-degree virtual roller coaster and competing in a game of laser tag.