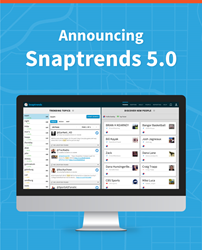 With version 5.0, we make discovery easy, fast and highly accurate so they [Snaptrends customers] can make the most informed decisions possible. - Todd Berry, CTO at Snaptrends
Austin, Texas (PRWEB) February 04, 2016
Snaptrends, the most powerful location-based social media insights platform in the world, announces the release of Snaptrends 5.0. The enhanced version of its cloud-based software will give users better access to images and videos posted on social media, an improved and more intuitive user experience, and a new Trends Dashboard to uncover emerging and trending topics quickly. Customers will notice the changes from the moment they log on to their user Homepage.
"What differentiates Snaptrends is our deep and advanced analytics that give our users actionable insights on what's most valuable to them," says Todd Berry, CTO at Snaptrends. "With the release of 5.0, we've embedded cutting-edge, behind-the-scenes analytics that makes the user's job much easier and more efficient."
Snaptrends 5.0 is focused on the Trends page, around two primary enhancements with topics and people. The Trends page reveals trending topics based on words and phrases the user may not have recognized or have in their geofenced areas. They can quickly discover the most used words over time, click on videos and photos, and see where these posts are happening on a virtual map. The system is also smart enough to identify people posting in two separate areas of interest, giving users actionable details instantly rather than wasting resources manually digging through data. This innovative functionality enables quicker insight and workflow for a better user experience.
"We are constantly improving Snaptrends software to meet the needs of our clients in whatever industry they represent," says Berry. "With version 5.0, we make discovery easy, fast and highly accurate so they can make the most informed decisions possible. This expanded functionality based on our proprietary analytics technology is a game-changer in the location-based social media discovery market."
For more information about the new features and enhancements included in Snaptrends 5.0, contact Snaptrends at (512) 716-8410 or visit their website at http://www.snaptrends.com.
About Snaptrends
Founded in 2012 and based in Austin, Texas, Snaptrends offers a leading location-based social media insights system to empower organizations in all industries to visualize conversations around their brands, products, services, executives, influencers and competition. Our advanced software captures, analyzes and organizes social media content in any specified geographic location automatically so users can easily and quickly find what matters most to them. Snaptrends' patented technology processes billions of geo-tagged social media posts every month and translates more than 80 languages so nothing is out of reach.